My kid doesn't pay me lip service. When it comes to the important stuff, she doesn't tell me what I want to hear. She tells me what she really thinks. Which is the way I want it. Although, I must admit, from time to time it's been a little unsettling, like the time she told me she wanted to try living without money and be a vagabond for a year, or the time she said she was thinking about dropping out of college and getting pregnant and raising vegetables. At these moments I try to remain rational and talk her down, and she eventually comes around. She's a smart girl and has the ability to distinguish caprice from stratagem.
It's been tough on her mother and stepmother, though. From time to time I've had to hold the phone away from my ear to diminish the volume. They want to shake her, get in her face, and set her right. I always counsel restraint. Let her find her own way, I say. Have faith. She'll make the right choice. And she always does – in her own time.
Full of Mustard
My daughter Cambelle is 23 now. She graduated from college last year and lives in California with her boyfriend. They are small plot farmers and supplement their income with side jobs.  They make their home in Nevada City, 90 miles west of Lake Tahoe in the western foothills of the Sierras.  They have three dogs and a redwood tree growing in their front yard. When they are not working they make art and music. They are surrounded by friends and community.
On the weekends they drive up to Lake Tahoe and go snowboarding at one of the many resorts there. They favor Kirkwood and Northstar, but graciously agreed to come with me to Squaw Valley for a little spring skiing. Squaw Valley is one of the largest ski resorts in the United States with 3,600 skiable acres across six peaks. It was the site of the 1960 Winter Olympics.
I remember it fondly when my brother and I used to come here in the early 80's, full of mustard, having turned up our noses up at the cruisers at Heavenly Valley, looking for something with a little more bite. Back in those days, before marriage, before kids, I was a little less mature and a lot more daring. I once performed a swan dive off the roof of our condo at Snowbird, Utah into a six feet of soft snow.
Another time I tried to dice a tree-filled glade at Jackson Hole and fetched up against an immovable spruce with such violence the bruise covered the whole left side of my body. Back then, with the help of Skippy, Pav and my brother, we savaged an innocent motel room in Steamboat Springs to express our disgust at the Bears losing in the playoffs. The recklessness of youth is exhilarating to the young, and stupid to their elders. I certainly didn't want my daughter acting like me. It's juvenile.
Money, Baby!
Alex is my daughter's boyfriend. He's an expert snowboarder.  Together, he and I could take anything Squaw Valley has to offer.  ut Cambelle is an intermediate boarder, a little tentative on the black diamonds, albeit game and uncomplaining, which makes her daddy proud of her.
The headlong, ballsy thing to do would've been to plunge down mogul-strewn headwalls and steeply pitched chutes, dragging Belle along with us, forcing her to ramp up her skills with trial by fire. That certainly would've been what I would've done at their age, and that's what we started to do. But then Alex saw how Belle was struggling and suggested we move to less demanding terrain, so she could enjoy herself. I was impressed.
What's more, I could see he wasn't saying this to impress me.  Which impressed me even more.
Later, at the mid-base lodge over a bowl of chili and cup of hot chocolate, Belle shocked me. She said, "You know what I've realized? I like money. I like having it and spending it. I'm going to have to figure out how to do that better in the future."
Sweet nectar to her daddy's ears. Anyone who knows me, knows I have a complicated relationship with money, a contempt for wealth as the defining motivation in peoples' lives, but a realistic understanding that money is essential to the achievement of personal goals. Up to this point my daughter had always shown that she understood the first part, but she was a little sketchy on the second. Now, suddenly, she had evolved. What a relief!
My Last Black Diamonds



We continued skiing, and as the day wore on Belle got tired. She began falling down a lot, not the dramatic pinwheeling, clothes shedding wipeouts her daddy was prone to back in the day, but the tipping over and sitting down type common to intermediate snowboarders. Still, she soldiered on. Never a word of complaint.
At one point, late in the day, she sat down hard, her head whipping back and striking the ground. It was the kind of fall that makes you cringe, even if you're not the victim's father. She picked herself up, dusted herself off and skied down past us.
"Are you all right?" we asked, as she went by.
"Let's go," she said, but we could see the tears in her eyes.  The frustration.
Alex said, "She's really tired.  We're going to call it a day." They went in, but I went on skiing. Black diamonds, just to get a taste. It was late March, the end of the season. At my age you never know which black diamond may be your last, so you have to get 'em while you can.
Wildflowers in the Snow
On the way home Belle said, "I'm thinking about going to graduate school. My life here is wonderful, but it's too easy. I've realized I'm sort of a workaholic and I need to channel my energy. I need to start thinking about a career."
I was thrilled, elated. But just like you have to hold your tongue and stay cool when your kid hits you with something outrageous, you can't be overly enthusiastic when they say the things you've been longing to hear. You don't want to scare them off. You've got to remain sober and rational, offering quiet encouragement, all the while you're inwardly doing a happy dance.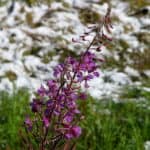 My approach to life has been a little different than my daughter's. I've tended to go straight at it, aggressively, recklessly, and I've often paid the price.  Hers is a more measured approach, deliberate, intentional, but unflagging, making mistakes, taking some hard knocks, but always moving forward, at her own speed.
I can respect that.
The snow melts late in the high Sierras. The ski resorts close mid-May. And by the time the last tenacious skier picks his way from patch to patch, the meadow grass is greening and the wildflowers are in bloom.
Check it out…
Squaw Valley Ski Resort
1960 Squaw Valley Rd
Squaw Valley, CA 96146
Website
Previous stop on the odyssey: Sonoma, CA //
Next stop on the odyssey:  Gold Hill, OR

Image credits:
All images by Malcolm Logan and Cambelle Logan, except Wildflower in the Snow by McKay Savage