The Road to Paradise: Driving the Golden Chain Highway in Northern California
February 6, 2021
/
by Malcolm Logan
/
5 Comments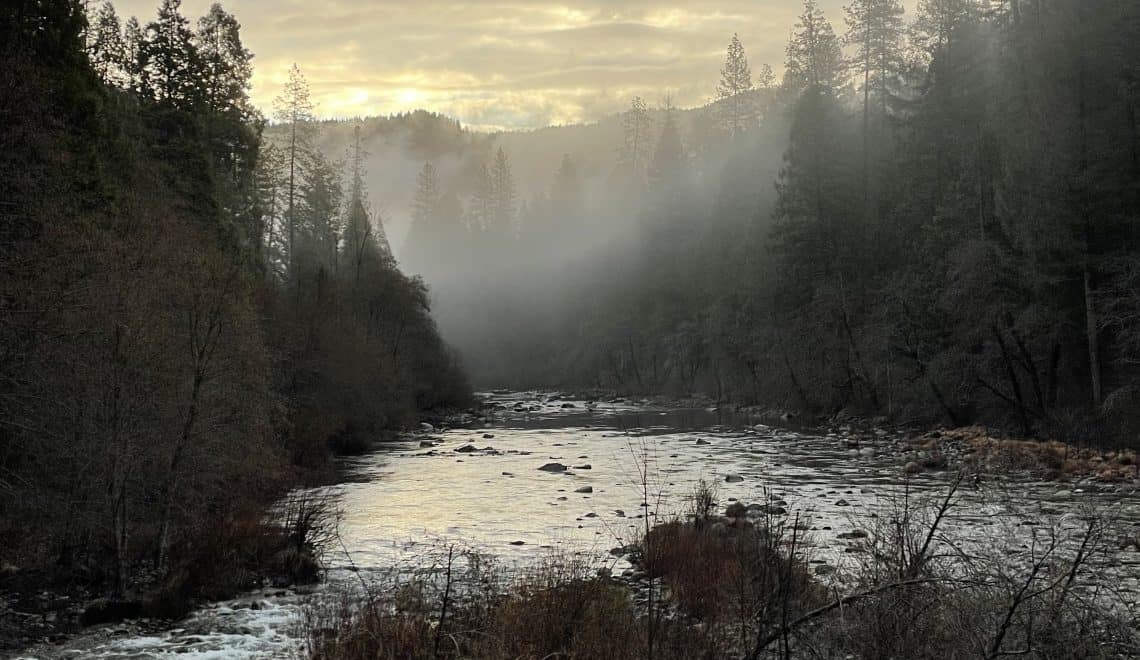 Getting lost isn't bad. I've had some of my best adventures when I've gotten lost. Case in point, recently I was on my way from North San Juan, CA where my daughter resides to Paradise, CA, where I was going to do research on the wildfire that destroyed the town in 2018. As the crow flies, the two towns are only thirty miles apart. If they were in the Midwest, traveling between them would take a half hour. But in northern California where high mountains ridges and long, narrow canyons are the rule, it's different. Given the rugged terrain and my own stupidity, it took me five hours. I did not regret it.
I was headed into the Tahoe National Forest at the northernmost reaches of the Sierra Nevada. Route 49 the narrow two lane road that penetrates that deeply forested wilderness is called the Golden Chain Highway. It winds through wooded canyons, alongside boulder strewn rivers, past feathery waterfalls, around mist-wreathed mountains, and over snowy ridges. I left at 7 A.M. on a Sunday morning. For the first two hours I saw fewer than five other cars. It was sublime.
Before leaving, my wife had suggested I take along the Rand-McNally. "Why would I need that?" I laughed, tossing aside the old paper map with scorn. "I have a GPS."
As it turned out, I should've listened to my wife.
Blissfully Ignorant
I had not reckoned on the fact that an 850,000 acre wilderness with no town larger 350 people might be short on cell towers. I was twenty-five miles into it when my GPS stopped working. That was after I had missed the road I was supposed to turn on. I was on my own and heading in the wrong direction.
Paradise lies northwest of my point of origin. Unbeknownst to me, I was heading northeast in the direction of the state of Nevada and up a steep incline to the Sierra Buttes, an 8,500 foot prominence four feet deep in snow.
But I was blissfully ignorant of that at the time and mesmerized by the scenery around me. Timber-covered mountain sides ascended abruptly on either side of the road. In the crevice below ran a shallow, rock strewn river, the North Yuba River. As I would later discover, the North Yuba River is important in California history because gold was discovered here in 1848. At Camptonville, where I missed my turnoff, the frothing forty-niners gathered in such multitudes the town once boasted more than fifty saloons and brothels to keep them entertained. Now it was a sleepy backwater with a population of 158.
Hidden Gem

As the road climbed higher, I looked down into the valley below and saw a veil of fog, like the train of a wedding gown, hovering over the river. I passed a series of trickling waterfalls carrying run-off from the snow melt above, and passed a Bear crossing sign that seemed particularly in earnest. A pair of beady eyes peered at me from the shrubbery.
Above the village of Downieville, I stopped to take a picture of the cluster of rooftops nestled in the valley below, then proceeded down into it. Downieville was silent and deserted on a Sunday morning. It's population of 202 apparently still in bed.
I've been to plenty of sparsely populated towns before, but never one with so many amenities. Downieville has nine restaurants, four bars, three hotels, two churches and a superior court, in case anyone wakes up and gets out of hand. The entire town is from the 19th century, as it was once a thriving mining community, and has no hint of recent commercial development. Yet it's a favorite haunt of mountain bikers, fishermen and backcountry jeepsters. Talk about a hidden gem!
Navigating by the Sun
From Downieville I continued east, thinking I was heading west. Normally, the position of the sun in the sky would've given me a clue, but I was too deep in the crevices between the mountains to tell where the sun was. By the time I climbed high enough to figure it out, I had something else on my mind. It was snowing.
It was a light snow at first, and I didn't think it would hold me back, but beyond the town of Sierraville (pop. 221), I came to a sign that said "Chains Required".  I couldn't believe it. Paradise was approached through a valley, I knew that. So where the heck was I?
Chains Required

A snow plow was idling in a parking lot beside a garage, so I went over and asked the plow driver how to get to Paradise. He looked at me like I was crazy. "You have to go down to Oroville," he said.
"Oroville?" I asked in shock. Oroville was at least three hours back in the direction I had come. I pointed to the road ahead and said, "What if I go up there? Can I get to Paradise that way?"
He shrugged. "On the other side of the summit you can turn north on 89. But it's slick up there."
"How slick?" I asked. "I don't have chains."
He looked down at my Mazda3 hatchback. "Is that car all wheel drive?" he asked.
"Sure," I said, knowing it wasn't.
"Well, if that's all wheel drive, you can give it a try. But drive slow."
I headed up the road past the sign that said "Chains Required"
Sierra Buttes
I should've known getting to Paradise wasn't going to be easy. It never is.
I was headed up and over the Sierra Buttes. When I left the plow driver, I was at 4,500 feet. A half hour later I was at 8,500, and the snow was coming down hard. Like the plow driver had said, the road was slick; the asphalt was covered by a white sheen of compacted snow. Gripping the steering wheel, I dropped my speed to 10 mph and crept along, feeling for the traction of my tires on the road. I was the only car up there. If I slipped off the edge of the cliff, it could be days before anyone found me.
I had no idea how long I would have to go on like this. I regretted not having asked the plow driver how far it was to the summit. It could be a half hour. It could be four. Every so often an elevation sign came into view. I took note. When the elevation numbers started going down, I figured I would be past the summit.
Circuitous Route
As it happened, it took about an hour. The elevation started to decrease. The snow pack became less and less, and, finally, blessedly, I was off the ice and onto dry pavement. I turned north on Route 89 and passed through the towns of Calpine (pop. 205) and Whitehawk (pop. 113). I merged onto Route 70 at Graeagle and got some cell reception. For the first time in over three hours, I could see where I was located in the world. After traveling east for the better part of three hours, I was now headed north.
It was a circuitous route. The road looped north and then south again, describing a long arc to avoid the mountain ridges to the west. It was a charming country of rock-strewn meadows and lush, green horse pastures hemmed round by distant foothills. At Quincy the road bent south and east. For the first time I was pointed in the direction of Paradise.
The Feather River Canyon
Near the town of Keddie (pop. 76) the East Branch of the North Fork of the Feather River appeared on my right. Then it passed under the road and settled in on my left. From there it was joined by the North Branch and became a genuine and serious watercourse, enough to power a succession of hydroelectric dams strung out along its length. As the Feather River took in its tributaries it became wider and deeper until it carved out the Feather River Canyon, which forms the backside of the ridge on which the town of Paradise sits.
It was here in the Feather River Canyon that a powerline fell into some dry brush and ignited the fire that destroyed 18,804 structures, displaced 50,000 and killed eighty-five back in 2018. But that's a story for another day; I'll cover it in my next post. For now, I was climbing up out of the Feather River Canyon via a series of switchbacks into the town of Paradise.
Paradise
I crossed through town and stood on the plateau looking down into the Butte Creek Canyon, which defines the opposite side of the ridge on which Paradise sits. After five hours, I had arrived.
It should've taken me a little over an hour. Yet I didn't regret it. Getting lost is one of the best ways to discover the unexpected. In this case, I discovered one of the most remote and stunning corners of North America. Turns out the road to Paradise is studded with equal parts peril and splendor. Who knew?
Image credits
All images by Malcolm Logan, except Feather River Canyon by David Wood