This self-guided tour of the Charles Manson murder sites in and around Los Angeles is designed to take three hours. By following the map below, you can see the principal sites described in the following narrative and form a deeper appreciation of the events that took place between July and October of 1969. Please note: Some of the addresses have been changed. The Sharon Tate house was at 10050 Cielo Drive. It has been demolished and replaced. The location of the former home is now at 10066 Cielo Drive. The LaBianca house was at 3301 Waverly Drive. The address has been changed to 3311 Waverly Drive.
The Self-Guided Tour of the Manson Murder Sites – Introduction
They say the 1960's ended abruptly on August 8th, 1969, the day Sharon Tate and three others were slaughtered in her home in the Benedict Canyon area of Beverly Hills. Sharon Tate was an upcoming movie star, 8½ months pregnant. Her friend, Abigail Folger was the wealthy heiress to the Folgers coffee fortune. Jay Sebring was Hollywood's hairdresser to the stars. And the fourth victim, Wojciech Frykowski, was a friend of Tate's husband, Roman Polanski, the famous movie director, who was away in Europe at the time of the murders.
To speak of the end of the sixties is to speak of the end of a certain naïve optimism. "All you Need is Love" and "Smile on your brother." The belief that a new age of peace and love was upon us, an age of free love and expanded consciousness, all of which had a special allure to the twenty-something celebrities of Hollywood, people who had already enjoyed the unexpected good fortune that only sudden stardom can deliver. It was as if they had been charmed so absolutely that nothing bad could ever happen to them, and then it did.
Stop One: 22601 Santa Susana Pass Rd, Spahn Ranch
Twenty-five miles up the road from Benedict Canyon at a rundown movie ranch called Spahn Ranch, George Spahn had built a replica old west town. The town had been used in dozens of movie and TV shows in the 1950's, the glory days of the movie western when the good guys always won. But by the late 1960's the ranch had fallen on hard times, Spahn was going blind, and he needed help to run the ranch, so he agreed to rent the town's empty buildings in exchange for labor to a group of ragtag hippies that called themselves "the family".
Today Spahn Ranch is part of the Santa Susannah Park National Historic Site. The false front buildings and wooden boardwalks that made up the replica town were destroyed by a fire in September of 1970, and none of the structures remain, but you can see the place where the family gathered for a famous photo beneath a rock outcropping, and if you search further, you can locate a stolen car Manson dumped on the ranch.
To find the location of the ranch, enter the address 22601 Santa Susana Pass Rd, Chatsworth, CA 91311 into your GPS. On the north side of Santa Susana Pass Road look for Iverson Road. Follow Iverson Road a short way to the Church at Rocky Peak on your right. Park in the church's parking lot. Walk down Iverson Road to Santa Susanna Pass Road, turn left and walk about 75 yards. Cross the road. You are standing on the site of Spahn Ranch.
In early 1968, after drifting down from Haight-Asbury in a yellow school bus and bunking down with friends and acquaintances around the Los Angeles area, Manson and his followers arrived at Spahn Ranch and settled in. Although George Spahn welcomed Manson's family, others at the ranch were not so hospitable, chief among them the ranch's foreman, 6 foot 4 inch "Shorty" Shea.
Shorty's Fate
Shorty Shea's dislike of Manson stemmed from an incident in which Manson beat the wife of one of Shea's ranch hands when she refused to loan him her truck. When Shea heard of the incident, he confronted Manson and they fought. After that, Manson had it out for Shea.
Eight days after the Sharon Tate murders, when the Los Angeles police were still trying to crack the case, the Los Angeles County Sheriff's Department raided Spahn Ranch to bust a stolen car ring being run by Manson from there. Manson and the family were taken into custody. At the time it was the largest raid ever conducted in the state of California.  Manson believed Shorty Shea had tipped off the cops.
Ten days later on August 26th Manson ordered two of his most ardent followers Steve Grogan and Charles "Tex" Watson to kill Shorty Shea. The two men asked Shea for a ride in his truck and then stabbed him repeatedly from behind. When he was bleeding but still conscious, they dragged him to a remote spot and tortured him to death. He was buried on a hillside near Santa Susannah Road next to Spahn Ranch.
Between July 27th and August 26th 1969, the Manson family murdered at least nine people in and around the Los Angeles area. Shorty Shea was probably the last of the family's victims. The first was a mellow music teacher and aspiring Buddhist named Gary Hinman who had made the mistake of doing business with Manson and the family.
Stop Two: 964 Old Topanga Canyon Rd, The Hinman House
Gary Hinman was a performing musician and novice drug dealer who had begun extracting mescaline from peyote and offering it for sale. Apparently he wasn't very good at it because when his roommate, a man named Bobby Beausoleil, tried to sell a thousand dollars' worth of the drug to a motorcycle game, the gang got angry and demanded their money back. This would have been a minor setback except for the fact that Beausoleil had fallen under the spell of Charles Manson.
When Hinman resisted giving the money back, Manson ordered Beausoleil to force him to hand it over. Manson also believed Hinman had $20,000 from an inheritance and was hiding it in the house. He wanted that money too. Beausoleil drove to Hinman's house at 964 Old Topanga Canyon Road along with Manson family members Susan Atkins and Mary Brunner.
Today the Hinman House is a thirty-four-minute drive from Spahn Ranch. It is a private residence. You cannot enter the property, but you can see it from the road.
Bobby Beausoleil demanded the $20,000, but Hinman denied having an inheritance, whereupon Beausoliel called Manson. Manson showed up with a samurai sword and threatened Hinman. When Hinman balked, Manson slashed his ear and cheek and stormed off.
At this stage Beausoleil didn't know what to do. With the girls' help, he stitched up Hinman's ear with dental floss and agonized over whether to take him to the hospital. But he realized if Hinman were taken to the hospital he would squeal to the police and Manson would be arrested. What might happen then was too horrible to contemplate, so Beausoleil resolved to torture Hinman until he handed over the money.
Bizarre Motives
Bobby Beausoleil and the girls tortured Hinman for two days before growing exasperated and calling Manson again. This time Manson ordered Hinman killed. Bobby Beausoleil dutifully stabbed his roommate twice in the chest, and in a sloppy attempt to pin the murder on the Black Panthers drew a panther's paw on the wall in Hinman's blood beside the words "POLITICAL PIGGY". Beausoleil then stole Hinman's car and drove north along the coast.
Eleven days later on August 6th, Bobby Beausoleil was arrested after falling asleep in Hinman's stolen car on the side of a highway outside San Luis Obispo.
August 6th is an interesting day in light of subsequent events. The motive offered at trial for the Tate-LaBianca murders leaned heavily on the fact that Manson ordered the killings in order to trigger a race war, what he called "Helter Skelter", but there may have been another motive: to free Bobby Beausoleil by making it appear that Gary Hinman's killer was still at large. By leaving a similar word scrawled in blood at the Tate-LaBianca murder sites, Manson, in his twisted logic, was copycatting his own crime, taking the heat off of Beausoleil.
Just two days after Beausoleil phoned Manson to tell him of his arrest, Manson ordered four of his followers to drive out to the house at 10050 Cielo Drive and "totally destroy" everyone in it, adding, Make it "as gruesome as you can."
Stop Three: 10066 Cielo Drive, the Sharon Tate Property

Why Manson chose the house on Cielo Drive has been a matter of debate. He certainly had nothing against Sharon Tate or any of the other house's current occupants. But a former resident, the music producer Terry Melcher, may have earned Manson's wrath. Melcher, the son of movie star Doris Day, had briefly considered making a record with Charles Manson but had decided against it. Manson, who reckoned himself an up and coming rock star, was furious.
Manson's four lackeys, Tex Watson, Susan Atkins, Patricia Krenwinkel and Linda Kasabian parked at the bottom of the hill that led up to the residence. They climbed an embankment and entered the property. As they walked up the driveway they encountered Steven Parent driving toward them. Parent had been visiting the property's caretaker William Garretson and was heading out to return home. Tex Watson stepped in front of the car, then walked around to the driver's side and murdered Parent with multiple stab wounds and four gunshots to the stomach and chest. It was a savage, senseless killing, and they were just getting started.
Slaughter
Watson ordered Linda Kasabian to keep an eye out while he and the others went up to the house. Watson broke in through a side window and let Atkins and Krenwinkel in through the front door. Aspiring screenwriter Wojciech Frykowski was asleep on the couch. Watson kicked him in the head to wake him up, and then bound his hands with a towel.
Atkins and Krenwinkel went to the bedrooms and rounded up Sharon Tate, Abigail Folger and Jay Sebring. Using a rope, Tex Watson tied Tate and Sebring together by the neck and threw the end of the rope over a ceiling beam, intending to hang them. But Jay Sebring complained, protesting the rough treatment of Tate, who was 8-1/2 months pregnant. Watson shot him and then stabbed him seven times.
Frykowski, whose hands had been tied by the towel, worked his hands free and lunged at Susan Atkins, who slashed and stabbed to fend him off. Cut and bleeding, Frykowski stumbled out onto the front porch where Watson followed, pistol whipping him, and then stabbing him several more times before shooting him twice.
Horrified, Abigail Folger made a run for it, getting as far as the front lawn before Patricia Krenwinkel tackled her to the ground and stabbed her. A moment later, Tex Watson joined in. Together, they stabbed her twenty-eight times. While they were stabbing her, Frykowski somehow got to his feet and stumbled away. Watson tracked him down and stabbed him repeatedly. In the end, Watson and Atkins had stabbed Frykowski fifty-one times.
PIG
Back in the house, Sharon Tate was pleading for the life of her unborn child. Susan Atkins was unmoved. She answered the movie star's pleas by stabbing her in the belly. Then Watson came in, and together they finished her off. Sharon Tate was stabbed sixteen times.
When it was all over, they wrote the word "PIG" on the front door in Tate's blood, matching what they had written at the Hinman murder site.
The Downward Spiral
Interestingly, even though the slaughter of Sharon Tate and her friends shook Hollywood to its core, the owner of the property continued to rent the house for years after the murders. From 1992 to 1993 the house was rented by Trent Reznor of the band Nine Inch Nails. The popular album The Downward Spiral was recorded in the house during that time. And, in a weird convergence, Marilyn Manson recorded parts of his album Portraits of American Family in the house in 1992.
In 1994 the house was torn down. It was replaced with a new Mediterranean-style home that is the current residence of TV producer Jeff Franklin, the creator of Full House. To dispel old associations, the address was changed to 10066 Cielo Drive.
Although you can't see on to the property, you can still see the place where the murderers parked their car and climbed up the embankment to break in. The Cielo House is a forty-two minute drive from the Hinman murder site.
Stop Four: 3311 Waverly Drive, the LaBianca House
After the murder of Gary Hinman, it appears something came unhinged in Charles Manson. Maybe he realized the extent of his power over his followers and began using them like an instrument to get back at his enemies, but if so, it doesn't explain the murders of Leno and Rosemary LaBianca.
While the killings at 10050 Cielo Drive can be explained as a case of mistaken identity (Manson may have believed Terry Meltzer still lived at the property), there was no such mistake the following night when Manson chose the home at 3301 Waverly Drive for no better reason than that he had attended a party at a neighbor's the year before. This was the very definition of random.
Leno LaBianca was a supermarket executive and his wife Rosemary owned a dress shop. They were asleep in their home on August 9th, 1969 when Charles Manson and Tex Watson broke in. The intruders bound and gagged the couple and put pillowcases over their heads. Then Manson departed. On his way out, he ordered Patricia Krenwinkel and Leslie Van Houten to join Watson in the house. He told them to kill the couple.
Butchery
Using a bayonet, Watson stabbed Leno LaBianca twelve times. Afterwards, he carved the word WAR into his stomach. Patricia Krenwinkel stabbed Rosemary LaBianca twenty-five times with a kitchen knife, but Manson had specifically instructed Watson to make sure both girls participated, so Watson ordered Leslie Van Houten to join in. She did, stabbing Rosemary LaBianca sixteen more times for a total of forty-one stab wounds.
Before leaving the house, Patricia Krenwinkel buried a steak knife in Leno LaBianca's throat and left a carving fork jutting out of his abdomen. Then, using the victims' blood, the killers scrawled the words "Healter Skelter", "Rise," and "Death to Pigs" on the walls.
The LaBianca house in the Los Felix section of Los Angeles still stands. You can see it from the road, but it is a private residence and you cannot enter the property. The address has been changed from 3301 to 3311 Waverly Drive. It is a thirty-eight minute drive from 10066 Cielo Drive.
The Party's Over
When Los Angeles awoke the next morning to news of the slayings, the question on everyone's minds was what could have been the motive for such butchery and slaughter. As random as it was horrifying, people feared they could be next. In Hollywood there was a fear bordering on panic.
Late sixties Hollywood was awash in sex, drugs and rock and roll. It was a great big party and everyone was invited, even creepy self-proclaimed gurus. The number of celebrities who came into contact with Manson were notable and many. Terry Melcher had been introduced to Manson by Dennis Wilson of the Beach Boys who had picked up some of Manson's girls hitchhiking and had sex with them. Neil Young and Mama Cass Elliot had met Manson and given him contacts at record companies so he could audition his music. On the night of the murders Sharon Tate had invited the music producer Quincy Jones and the actor Steve McQueen to the house for a party, but they declined. If they hadn't, they probably would have been murdered too.
On the morning of August 11th the party ended, bringing a violent reckoning no one had seen coming. Everyone hunkered down to see what would happen next. And what happened next was… nothing.
Massive Incompetence?
In retrospect something should have happened next, and quickly. The police had plenty of reasons to connect the three murders, but didn't. In each case the killers had left the words "PIGS" or "Piggies" written in blood on the walls, but investigators refused to draw the connection.
For weeks before the murders, Charles Manson had been under investigation for running an auto theft ring out of Spahn Ranch. Eight days after the murders on August 16th the LA County Sheriff's Department mounted the largest police raid in California history and arrested twenty-seven people, including Manson himself. They had more than enough to send him back to prison: stolen cars, illicit drugs, underage girls and a cache of illegal weapons. Manson was on parole. He should have been sent back immediately. Instead, he was let go without charges, as were all of his followers.
Ten days later, Manson was arrested again while having sex with an underage girl. There were drugs at his bedside. Manson was initially charged with narcotics possession, statutory rape, and contributing to the delinquency of a minor, but the charges were dropped, and Manson was freed again.
In fact, by August 26th, the day he ordered the murder of Shorty Shea, Charles Manson had been charged with grand theft auto, possession of narcotics, rape, and contributing to the delinquency of a minor, any one of which should have landed him back in prison. Meanwhile, a
series of strange and gruesome murders had the city of Los Angeles in the  grip of terror, and people were desperate for answers. So why weren't the cops looking at Manson? What was going on? Was this massive incompetence or something more sinister?
LSD and Hypnosis
In his book Chaos: Charles Manson, the CIA, and the Secret History of the Sixties, author Tom O'Neil offers a fascinating new theory about what happened. O'Neill points to Manson's acquaintance with CIA operatives in the Bay Area before moving to Los Angeles in 1968. Did Manson have friends in high places protecting him?
The CIA operatives he was acquainted with had been active in CIA mind control experiments during the Korean War. They had experimented with LSD and hypnosis to brainwash enemy POWs in an effort to get them to do their bidding. Ultimately, the effort failed because the subjects could not be made to do things that went against their morals, but the program had never been entirely shut down, and the CIA remained keenly interested in mind control techniques. Then along came Manson. Could it be the cult leader's charisma offered a new avenue of experimentation with mind control? Did Manson learn his techniques from the CIA?
Manson as a Cats-Paw
O'Neill offers little in the way of hard evidence to back his thesis, but the circumstantial evidence is compelling. If indeed Manson did combine cult leadership techniques with CIA mind control to turn his followers into pliable robots, the agency may have been just as shocked as anyone that he used them to carry out the slaughter of innocent people. But it's unlikely they were unaware that Manson had his own twisted agenda.
The Helter Skelter theory of the murders was not wrong. Manson was a virulent racist and was trying to foment a race war by committing acts of violence that he hoped to blame on black radicals. The late sixties were a time of great political upheaval, and while white middle-class Americans had not yet learned to fear hippies, they were terrified of Black radicals, especially the Black Panthers. It is not inconceivable that certain members of government law enforcement saw a benefit to playing along with Manson's warped plan, framing the Black Panthers for crimes committed by others as a way of exploring new avenues of mind control. But if they were using Manson as their cat's-paw, they got more than they bargained for.
Arrest
Feeling the heat after the August 16th raid, Manson and the family pulled up stakes and fled Spahn Ranch for the more remote surroundings of Barker Ranch in Death Valley. Two months later, after much apparent floundering by investigators, authorities raided Barker Ranch, again on suspicion of auto theft, and arrested the family for a second time.
This time, while in custody, someone implicated Susan Atkins in the murder of Gary Hinman, and she was charged. Not long after, Atkins boasted to cellmates that she had killed Sharon Tate. Her cellmates alerted authorities. Atkins was interrogated and continued boasting.
Not long after, Linda Kasabian, who had been the lookout at the Tate murders agreed to turn state's evidence against the family in exchange for immunity. After three months, the authorities finally had the killers, but to make a case against Charles Manson they were going to have to convince the jury of an outlandish idea.
Stop Five: 211 W Temple St, Los Angeles House of Justice
If the CIA was two decades deep into mind control, for the general public it was still the stuff of science fiction. It fell to Los Angeles County Deputy District Attorney Vincent Bugliosi to convince the jury that Manson held such sway over his followers he could get them to commit murder on command. With the exception of Susan Atkins, none of the alleged killers had criminal records before they had met Manson. They had been corrupted by him, that much was clear, but brutal, heartless murder?
Bugliosi explained to the jury how Manson had saturated his followers with LSD, reducing their mental capacities to near zero until they were completely compliant. The use of LSD to manipulate a subject's mental state was text book CIA, but Bugliosi avoided any reference to the federal agency, preferring instead to rely on the antics of the family itself to prove his point.
During the trial at the Los Angeles Hall of Justice, Manson's followers conducted a bizarre vigil on the sidewalk out front in which they shaved their heads and sang songs. When Manson carved an X into his forehead, they copied him. If this wasn't proof of his control over them, what was? In his final summation Bugliosi call Manson a "Mephistophelean guru" who "sent out from the fires of hell at Spahn Ranch three heartless, bloodthirsty robots." The jury agreed. Manson was convicted.
It's a sixteen-minute drive from the LaBianca house to the Los Angeles Hall of Justice where you can see the sidewalk where the family kept its bizarre vigil in front of the courthouse.
An Enduring Fascination
In the end, all of the killers in the Tate-LaBianca murders were convicted. To this day none have been paroled. Susan Atkins died in prison in 2009. Charles Manson died in 2017.
The Manson murders struck Hollywood like a stone and sent out ripples across the culture for decades after. The story of Manson and his family has spawned fifteen movies and a half dozen TV shows. Hundreds of articles have been written on the subject, as well as four books, including Helter Skelter, Vincent Bugliosi's book about the murders, which became the bestselling true crime book in American history and sold 7 million copies.
America's enduring fascination with the Manson murders stems in part from the bizarre nature of the crimes, the fact that a group of ordinary young people could be turned into savage monsters by a toxic guru, and that the motives for such slaughter could be so random and disturbing. New theories about Manson's knowledge of mind control provide an interesting new slant on the killers' motivations, and taken together with Manson's sociopathic tilt help to make the crimes more explicable, if no less unsettling.
Self-Guided Tour of the Manson Murder Sites: Coda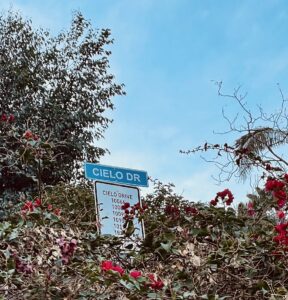 By visiting the locations where these events occurred you get a more thorough understanding of the context in which the crimes took place. You smell the air, see the sights and feel the ground. You come away with a richer, more nuanced appreciation for what happened, where and how. This is enrichment travel, our specialty at American Odyssey.
By following our self-guided tour of the Manson murders sites, you will enjoy a unique and memorable experience that will have you talking for years to come – and may yet cause you some sleepless nights.
Previous stop on the odyssey: Las Vegas, NV //
Next stop on the odyssey:  Fresno, CA

Sources:
Bugliosi, Vincent and Curt Gentry. Helter Skelter, New York, NY, W.W. Norton & Company, September 17th, 1994.
O'Neill, Tom and Dan Piepenbring. Chaos: Charles Manson, the CIA, and the Secret History of the Sixties, New York, NY, Little Brown, June 25th, 2019.
Image credits:
Charles Manson April 1968 mugshot, Public Domain
Spahn Ranch in the 1960's, Close Ups and Long Shots
Site of Spahn Ranch today, Malcolm Logan
Manson Family members in a cave at Spahn Ranch, Afflictor.com
Manson Family Cave today, Maya Daniels
964 Old Topanga Canyon Road today, Malcolm Logan
Bobby Beausoleil, CharlesManson.com
10050 Cielo Drive in 1969, by encanto_sunland
Sharon Tate, by encanto_sunland
Body being removed from 10050 Cielo Drive, by encanto_sunland
Police at 10050 Cielo Drive, by encanto_sunland
Cielo Drive in 1969, JGKLein
Cielo Drive today, Malcolm Logan
LaBianca house today, Malcolm Logan
Death to Pigs, TheNervousBreakDown.com
Steve McQueen, Public Domain
Doris Day, Public Domain
Neil Young, Mark Estabrook
Mama Cass Elliot, Public Domain
Spahn Ranch arrests, MansonFamilyBlog
Manson under arrest at ranch, HereWomenTalk.com
Chaos by Dan O'Neill, Malcolm Logan
Tex Watson, Cielo Drive.com
Susan Atkins, Los Angeles Sheriff's Dept
Leslie Van Houten, Los Angeles Sheriff's Dept
Patricia Krenwinkel, Fair Use License
Linda Kasabian, Los Angeles Public Library
Bugliosi speaks to the defense attorneys, Murderpedia
Los Angeles Hall of Justice, Public Domain
Helter Skelter by Vincent Bugliosi, Malcolm Logan
Cielo Drive street sign, Malcolm Logan