Lincoln wanted to get away.  He said, "Find me a dock on a lake somewhere up north where I can dangle my legs in the water and fish."
I like to impress Lincoln so I found him a lake – in fact, I found him 10,000 of them, many of them with docks, and we headed to Minnesota.
Lincoln and I first met in high school in 1974 at a time before laptops, cable television, cheap air fare, and sushi, at a time when small towns were thriving, when cool cars were made in Detroit, when working class guys could get a steady job, and a college education earned you a solid career.
In the Beginning
In 1974, when Lincoln and I first met, most scientists had not yet embraced the Big Bang Theory, and the majority of Americans still favored the idea that the universe was created in seven days. Lincoln and I were having our first quarrel – probably over the best way for him to approach a girl – about the time when cosmologists first began to promote the idea that the earth had formed out of clouds of dust left over from the formation of the sun, and that subsequent accretions onto that little dust ball eventually formed the earth.
It was a nifty theory, but Lincoln and I weren't paying attention. We were chasing tail, getting drunk and coping with all the joys and pleasures of broken homes. It was a time when divorce was messy and driving drunk was a lark. Unable to get along with my stepparents I had left home and taken up residence at Lincoln's house in the shambles of his parent's bitter divorce. We propped each other up, got into trouble, egged each other on, and laughed. We laughed and laughed.
Splitsville
Breakups are no fun and Lincoln and I have seen our share, but some things remain together despite the odds. About the time Lincoln and I were graduating from high school, geologists discovered the Midcontinental Rift, a 2,000-mile long rift or tear in the surface of the planet that occurred about 1.1 billion years ago, in the earth's infancy. It occurred when the North American continent began to split apart. The rift ran through Minnesota and down into Iowa. If it had continued it might've opened a seam from Maine down through New Mexico and today we'd be surfing off the coast of Oklahoma.
But it stopped short, leaving the deepest rift that ever failed to become an ocean. Not that you can't take a look at that ocean if you want. The north coast of Lake Superior is the northern edge of the Midcontinental Rift. When Lincoln and I were skirting the shore on our way through Duluth heading north, we had no idea we were looking at the coast of a nascent ocean. But sometimes you don't appreciate things until you're already past them.
Just Like it Used to Be
The town of Virginia, Minnesota is a fly in amber, a time capsule of American small town life the way it used to be when Lincoln and I were young. We stumbled on it by accident on our way up north.
Heading out for a bite to eat we expected to find the bombed out remnants of a once thriving main street, the fate of most American towns, a row of empty storefronts, decaying parking lots, an apocalyptic emptiness broken only by a Tae Kwando studio, a struggling antique store, and a run down Mexican restaurant. But not in Virginia, Minnesota.
The main street here was lined with mostly white, Anglo-Saxon people gathered to watch a vintage car parade. The storefronts were all occupied, mostly by independent businesses. The movie theater still showed movies.  The music store still sold Wurlitzers. The barber shop still had its barber's pole. The striped awnings above the storefronts were clean and bright, the streets were newly paved, and a stream of gorgeous old American cars with fins and fastbacks and leaping Impala hood ornaments cruised on by. It was like stepping into a time machine.
The phenomenon was striking enough that I had to figure out what was going on. Why was Virginia, Minnesota thriving when the rest of rural America was in its death throes?
Over the millenia northern Minnesota has been home to a lot of intense geological activity which has led to some very old, very firm rock.  Taconite is a type of iron ore much favored for the construction of buildings, bridges and infrastructure. Taconite is found in abundance in the Mesabi Range of northeastern Minnesota, and the Chinese are much in need of taconite.
As a result, the working class people of Virginia have steady jobs and disposable incomes, just like it used to be. Here was a case where globalism was actually working for Americans. Lincoln and I looked at each other and grinned. The last time we had seen a town like this was in the late 1970's when we were in college, about the time when the general public first started warming up to the concept of plate tectonics, the idea that the rocky shell of our planet is composed of interlocking plates that shift and scrape and break apart, forming oceans and mountains and continents.
Finding an Arrowhead
If the earth's surface is divided up into plates like a giant jigsaw puzzle, and those plates routinely crack and crumble and collide, than it stands to reason that some plates are more intact than others. In geologic terms the more stable plates are called cratons and one of the most stable cratons on the planet is the Canadian Shield, a collage of prehistoric rock that dates back to the Precambrian era more than a billion years ago.
The Canadian Shield takes up most of Eastern and East-Central Canada. Its southern most portion reaches into northern Minnesota and underlies the arrowhead region, the triangular shaped section above Lake Superior. So as Lincoln and I drove north out of Virginia to the town of Ely we were looking at surface exposures of rock formed in volcanic activity more than 2.5 billion years ago.
Interestingly, the soil of the Arrowhead is not glacial till, the nutrient rich soil raked out over the surface by receding glaciers that can be found in neighboring Wisconsin and southern Minnesota, but the pulverized remains of a rocky rind that is part of the original planet. As such it is not good for farming, which explains why the region is not heavily planted and remains the unencumbered domain of hunters and fishermen.
Fish Stories
Lincoln and I were headed to the Boundary Waters Canoe Area to partake of some of that legendary fishing. The Boundary Waters is a 1 million acre wilderness area straddling the US-Canadian border. It contains more than 1,000 lakes and 2,200 backcountry campsites. Few roads penetrate its interior and it is almost entirely off limits to motorized boat traffic, making it wonderfully clean and quiet with only the songs of loons and the splash of canoe paddles to break the silence. But if you are not a regular, you must stop in a town like Ely to get outfitted.
Ely, Minnesota is a place where you can't go far without hearing stories of 20 lb Northern Pike and Walleye as big as your arm. To hear them tell it, you can practically reach into the water and pull out a fish big enough to serve a small family dinner.  It's very encouraging.
At Wilderness Outfitters Lincoln and I hired a guide to lead us to the Promised Land and then proceeded to fail spectacularly. Lincoln and I have a long history of muddling through life. The good Lord must be smiling down on us because in the final analysis we've come through all right. Lincoln hit a bad patch in the mid-1980's that would've done in a lesser man. I took a horrible beating from 1993 to 2003 of the kind that others call "character building" but which I can only think of as sucking.
In both cases we were there for each other, supporting each other with loads of commiseration and plenty of good humor. So spending a day in a canoe together trying to catch fish and having nothing to show for it but an empty bucket and an armful of mosquito bites, while disappointing, offered us a rich opportunity for laughs, and we took full advantage.
Life is heavy enough, so it helps to lighten up. Lincoln and I like to recline and stretch out when we're on vacation, to "chill" as it were. As it turns out, the planet earth has much the same attitude when it comes to feeling relieved.
Bouncing Back
For thousands of years the arrowhead region of northern Minnesota was pressed under thick sheets of ice. When the ice receded it scraped lakes and drumlins into neighboring sections of Wisconsin and Minnesota, but the claw-like action of receding ice is not responsible for the thousand or so lakes found in the pre-Cambrian rock of the Boundary Waters region. They are the result of post-glacial rebound.
The enormous weight of ice from heavy glaciers resting on the planet for so many years caused the surface of the earth to deform and warp downward. When the ice melted, the depressed land slowly lifted back up or rebounded. But it didn't do it uniformly.  In most cases it shifted horizontally as it lifted, creating long tilted shelves of rock, which filled with water forming the long narrow lakes and rivers that pock the surface of the region like streaks of water on a rain covered windshield.
Sometimes two or three of these long narrow lakes run together to form a larger lake joined by narrow channels like Lake Vermilion near Cook, Minnesota. It was here that I found Lincoln the dock he had requested, a dock where he could sit like Otis Redding, watching the tide roll away.
A Different Kind of Wildlife
At Pehrson Resort on Lake Vermilion they have everything you need to have fun on the water. In addition to a dock, they have pontoon boats, water skis, a beach and kayaks.  Feeling ambitious after a day spent relaxing on the dock, we decided to kayak across the lake, a matter of about six miles. It was a bit windy and the water was choppy but we managed.
Lincoln and I started taking these little vacations together about ten years ago. As an attorney wrestling with real estate issues in Miami he is often so taken up with keeping the wolves at bay that he forgets to get away. I like to help him with that. I say let's go somewhere to see a different kind of wildlife. He gives me some ideas, tells me his preferences, and I arrange it. He told me he wanted to come to a place like this.
After the last ice age this place was the domain of giant beasts, mammoths, mastodons and giant beavers. As the temperatures rose, forests sprang up. 15,000 years ago the area was densely carpeted with trees, the lakes and rivers hemmed round with unbroken vegetation, making it ideal habitat for a wide range of wildlife. The appearance of man in the last 12,000 years reduced much of the large game, but even today moose, wolves, elk and black bear inhabit the region. And then there are the birds.
As Lincoln and I were kayaking across the lake I heard a screeching sound and looked up. A large raptor was plunging out of the sky. It dove straight down, not fifty yards in front of me and snatched a fish out of the water. I was awestruck. It was a bald eagle, majestic symbol of our nation, which had been on the endangered species list since Lincoln and I were in high school.
Just this year, in the same month Lincoln and I were visiting, the Minnesota Department of Natural Resources took it off the endangered species list. It seems something other than the surface of the earth rebounds in northern Minnesota.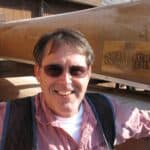 It's taken a long time to get where we are, Lincoln and I, passing through the vagaries of life, enduring the hard times, growing and evolving. Working from the solid bedrock of our 40-year old friendship, we've managed to find the value in each other, to appreciate the uniqueness of our relationship and honor it. Much like the arrowhead region of northeastern Minnesota our history runs deep, and what remains after all the change and upheaval is something solemn and sublime.
Check it out…
Cruise Night – Virginia, MN
Downtown Main Street
Virginia, MN
(218) 641-3061
Website
Wilderness Outfitters
1 E Camp St.
Ely, MN  55731
(218) 365-3211
Website
Pehrson Lodge on Lake Vermilion
2746 Vermilion Drive
Cook, MN  55723
Previous stop on the odyssey: Williston, ND //
Next stop on the odyssey:  Apostle Islands, WI
Sources
Wikipedia contributors, Geology of Minnesota, last modified 15 July 2013, acquired September 14 2013.
Wikipedia contributors, Midcontinental Rift System, last modified 16 March 2013, acquired September 14 2013.
Wikipedia contributors, Canadian Shield, last modified 16 September 2013, acquired September 17 2013.
Wikipedia contributors, Boundary Waters Canoe Area Wilderness, last modified 17 September 2013, acquired September 17 2013.
Image credits:
All images by Malcolm Logan, except North Shore of Lake Superior, Public Domain; and Arrowhead Region of Minnesota, Sinn