It was awful, one of the most disgraceful examples of urban blight imaginable. Block after block of gorgeous buildings gone to seed, paint peeling, plaster crumbling, porches sagging, weeds, filth and decay. And there on the porches impoverished retirees clinging to the last vestiges of life, sick, dying, tubes sticking out of them, slumped in their wheelchairs. It was Miami Beach, a warehouse for the sick and infirm and a playground for junkies and gangsters. South American cocaine ran like blood through its parks and alleys. To think it could ever come back to life was unimaginable. But then a miracle happened.
Crockett and Tubbs
A miracle in the form of a television show. In 1984 Miami Vice aired for the first time. The show was groundbreaking in many ways. One of first shows to use rock music in its score, it was one of the first to broadcast in stereo, and one of the first to incorporate the quick-cut editing of music videos. But perhaps most importantly, Miami Vice was one of the first shows to be shot entirely on location in an American city other than Los Angeles.
Miami Vice was shot in Miami Beach, and, more specifically, in that impoverished area at the south end of Ocean Drive near Lummus Park, a place that would become internationally famous in a few years.
But when Miami Vice shot there it was a cesspool of decadence and crime, so run down and hopeless you could buy property there for a song – and what properties they were! Curvaceous, streamlined art deco masterpieces from the Art Moderne movement of the 1930's, colorful confections of stacked concrete and glass touched up with whimsical ornaments and filigrees, and glowing neon lights turned dusty and dying, flickering out, until alert investors saw a show and an opportunity.
No Place Else Like It
In the mid-1980's they started moving in, fashion industry professionals, gays and lesbians, real estate developers and venture capitalists. The neon flickered back on. All through the 90's the buildings were repainted, rehabbed, refurbished. The streets were repaired and the sidewalks widened. Sleepy retirement hotels awoke to new lives as swank bars and thumping night clubs. The mile long stretch of white sand before Lummus Park, once the haunt of prowling drug dealers and prostrate junkies, sprouted colorful umbrellas and posh cabanas. Soon it became the go-to-place for international jet setters. Then it got a new name: South Beach. And Miami Beach became the sexiest city in America.
To go there now is to enter another world, for no place in America is quite like South Beach. In some ways its more like Europe with its mélange of languages, its topless beaches, its class driven pretensions, its gratuities included. At the same time it's unmistakably American with its relentless optimism and restless entrepreneurialism.
Doing it right means going to the heart of it, rubbing elbows with the beautiful people. Consequently, no visit is complete without a visit to the stylish bars in the art deco hotels that line Collins Avenue and Ocean Drive.
The Ultimate Oasis
One of the swankiest is the newly remodeled Setai, an Asian-themed 120-room hotel featuring a tranquil courtyard surrounding a 200 foot serenity pond, a zen-like refuge from the noisy exuberance of South Beach. In 2013 The Setai was named the Best Hotel in Miami by the readers of Conde Nast Traveler. But don't make that reservation just yet. Like most hotels on South Beach it's not cheap. A room here will set you back  $575 a night.  Indeed, we've come a long way from the early 1980's when $575 would practically have bought you the whole building!
Just down the street from The Setai is the The Delano. Long a favorite of South Beach fans, The Delano calls itself the "the ultimate oasis of sensuality and soul", a bit of hyperbole that can be forgiven when you walk through the soaring glass doors onto the back veranda and take in the long stretch of cerulean blue pool. Opulent bungalows with billowy white curtains and moss-green marble line either side and at the end a comfortable poolside bar serves drinks to members of the public (and other mere mortals) after 5pm.
A Creative Cocktail

When Thomas Kramer, a German real estate developer bought the southern tip of South Beach in the early 1990's for $45 million, some doubted his sanity. How could he possibly attract enough visitors to the area?  In retrospect such misgivings seem laughable but then it's easy to pick out the winning horse after the race is run.  Kramer and others like him were able to look into the future and see the unique appeal of South Beach and predict that high end hoteliers like the Morgan Group, owners of The Delano, and Sam Nazarian, owner of the SLS would flock to the area.
The SLS is one of the newest 5-star luxury hotels on South Beach. Advertised as "a creative cocktail of sophistication and playfulness", the Phillipe Starck designed interior is indeed a whimsical melange of Latin and Asian motifs that sacrifices nothing when it comes to style. To bask in its elegance, if only for awhile, is sublime.
Rarefied Air
And you can bask in its elegance.  Though it's true that lodging at one of these hotels will blow the vacation budgets of most people, their bars and restaurants are open to one and all. You might want to skip the flip-flops and cargo shorts when patronizing one of these places, however. A modicum of effort to bump up your style will make you more comfortable, and you'll soon be breathing the rarefied air of the rich and the influential without feeling like a rube.
And where money and style hold sway, sex is not far behind. Since the early 1990's when the fashion industry discovered South Beach, the area has been a magnet for models and photographers. A walk down Ocean Drive will turn many a head as those impossibly slender and beautiful young creatures from the pages of Vogue or Elle go strolling by. Just where are they going, you might ask. Well, Nikki Beach Club is a good bet.
Miami Beach: Ground Zero for the Beautiful People
Nikki Beach Club, located at the south end of Ocean Drive, is an indoor-outdoor nightclub set in the sugary white sand beneath the swaying palms of South Beach. Models, jet setters and celebrities lounge on day beds and relax in cabanas drinking champagne and noshing on award winning gourmet cuisine.
If you want in, but don't want to wait behind the velvet rope, check out the Sunday brunch. Everyone is welcome – as long as they're willing to pony up the $50 price tag before drinks – but the spread is lavish, including sushi, paella, and stir fry, along with the usual fare of waffles, omelettes and crepes. And while you're dining, you can enjoy the eye candy, which is everywhere at this ground zero for the beautiful people.
But premium people watching of the very best kind can be had entirely gratis just a few blocks away. Walk along the surf on South Beach and you'll see another reason why Miami Beach is the sexiest city in America.
The beach is lined by lithesome beauties and buff fellows from all over Asia, Europe and South America. Along with New York City and Los Angeles, Miami Beach is one of the top tourist destinations for fashionable travelers with deep pockets and the kind of sex appeal only money can buy.
Pool vs Bar and Bar Wins
At night the art deco hotels that line Ocean Drive spring to life with al fresco dining, poolside bars and frenetic night clubs.  The party scene on South Beach rivals any to be found anywhere in the world, yet the bath of colorful neon that spills out from the hotels is uniquely Miami and one of the signature appeals of the place.
For a taste of genuine South Beach nightlife, one would be hard pressed to do better than The Clevelander.  This quaint art deco hotel at 10th Street and Ocean Drive has been all but eclipsed by its massive poolside bar which has expanded over the years, gobbling up the hotel's footprint, until even the pool itself has become an afterthought.  Nevertheless, the party rages nightly at The Clevelander with drinks and dancing until the wee hours and everywhere beautiful people.
It's hard to believe that this was once a slum, this haven of 5-star luxury hotels, international jet setters, and comely models, this resort of celebrities and the spectacularly wealthy. It's hard to imagine that, not so long ago, these gorgeous properties with their stylish architecture, which are so uniquely Miami, were abandoned and desecrated, left for dead, and could be had for a song.
It's hard to believe that anyone ever doubted it could be brought back to life, and that it took a television show and a few courageous investors to realize its potential and plant the seeds that allowed Miami Beach to become the sexiest city in America.
Check it out…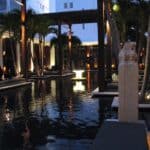 The Setai Hotel
2001 Collins Ave
Miami Beach, FL  33139
(305) 520-6000
Website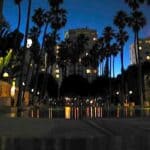 The Delano Hotel
1685 Collins Ave.
Miami Beach, FL  33139
(305) 672-2000
Website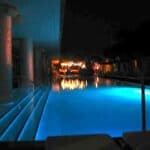 SLS Hotel South Beach
1701 Collins Ave.
Miami Beach, FL  33139
(305) 674-1701
Website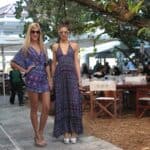 The Nikki Beach Club
1 Ocean Drive South
Miami Beach, FL  33139
(305) 538-1380
Website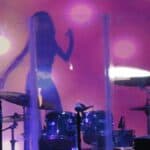 The Clevelander Hotel and Bar
1020 Ocean Drive
Miami Beach, FL  33139
(305) 532-4006
Website
Previous stop on the odyssey: Smithland, KY //
Next stop on the odyssey:  Ft. Myers, FL
Image credits:
All images and video by Malcolm Logan