Away Again in Margaritaville: A Perfect Winter's Day in Key West, FL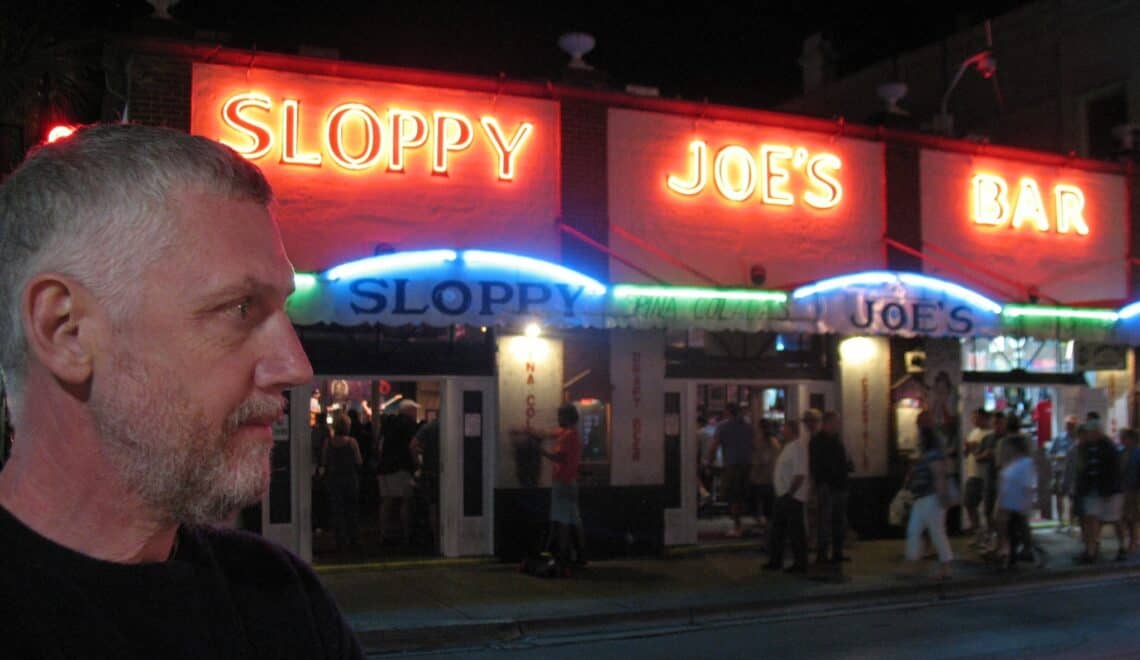 Lincoln rebelled at the idea of getting wet. "My blood has become too thin living in Miami.  65 is definitely too cold for me."
By the time we got to
the place,
however, located on a tranquil channel beside the mangrove swamps in Key West the temperature had climbed to 74 and the sun was shining. When Margot, our guide, explained that the vast majority of first time paddlers made it through the entire 90 minutes without falling in, Lincoln's confidence was bolstered.
So we slid out on the surface of the water, teetering a bit uncertainly at first, down on all four, gathering the nerve to stand up.  A brief frightening moment, our boards quavering as we got to our feet, and then we were standing up, brandishing the long paddles, looking like we had done this before.
Margot pointed out the aquaculture to us as we slid past, crabs and starfish and sponges, the water as clear as glass, never more than five feet deep.  We followed the channel to an open bay and then through it to a narrower channel, bordered by mangroves on one side and residential homes, modest in size but well appointed, on the other.
Margot told us that once upon a time developers had wanted to rip out the mangroves and build more residential homes here, but then scientists discovered the importance of mangroves in absorbing storm energy. Overbuilt vicinities where the mangroves had been removed were sitting ducks for hurricanes.
The last hurricane that had blasted Key West was in 2005, Wilma. It was virtually forgotten in the media storm surrounding Katrina, which had occurred just six weeks earlier.  The mangroves here had kept the vulnerable homes of local celebrities like Jimmy Buffet, whose former backyard we paddled past, from being reduced to kindling.
Margot guided us into the tangled jungle that was the Mangrove forest. We had to crouch down to pass under branches.  We pulled ourselves along by the roots. The shallow, meandering passage led into a sun-dappled maze of twisted limbs, opening into a pool replete with sea life:  jellyfish, sea worms, barnacles and crustaceans.
From the clearing a dozen similar looking passages led off in all directions. Without Margot as our guide we would easily have become lost, wandering in the mangrove forest for hours, adrift on our paddleboards, dramatically increasing the probability that one of us would sooner or later fall off.  But as it was, Margot led us back to the main channel and we made it to the dock without mishap.
Lincoln had to confess that that had been a worthwhile adventure, which made him more amenable to our next, a tiny food truck located on the edge of a parking lot near the waterfront.  This upscale lunch wagon had somehow earned the number one spot on Trip Advisor for restaurants in Key West.
Low Key Tropical Gem
Garbo's Grill
specializes in fish tacos and seafood burritos, made fresh while you wait.  Chickens and roosters peck around your feet as you nosh in the small palm-shaded lot adjacent. We opted for the mango jalapeno hot dog, an artful combination of sweet, savory and spicy, and found it quite tasty.
Lincoln was beginning to warm to the idea of a quick day trip to Key West. Reluctant at first, fighting the good fight as an attorney in Miami he needed to be persuaded to unplug himself from the trials and tribulations of life, to steal away down the overseas highway to Margaritaville, as different from the multi-cultural madness of Miami as Barbadoes is from New York City, but only three hours south.
In recent years I have seen many of my friends faced with difficult challenges. The Great Recession has put us all through the ringer in one way or another, testing our mettle with adversity and forcing us to adopt new ways of coping. My way has been to get away, to separate myself physically and geographically. Some destinations are better for this than others. New Orleans, Costa Rica, and Santa Fe are favorites, but to these I might add another: Key West.
I long ago gave up the idea of Florida as some sort of carefree haven from the troubles of life. Few places are more stressful. Orlando is overrun with screaming children and nerve-racked parents.  The southwest coast is like a congested parking lot at an upscale shopping mall.  And the Miami-Ft. Lauderdale corridor is quite possibly the most stressful urban corridor in America, mean, loud and harrowing.  But Key West is different.
If you hit it mid-week when the tourist influx is at low tide, you can still capture some of the flavor of this low key tropical gem, a haven for sports fishermen, bird watchers and colorful characters of all sorts.
After lunch we headed over to the
Ernest Hemingway House
, the French-Creole manse that Ernest Hemingway called home during the years 1931 to 1939 when he wrote "The Snows of Kilimanjaro" and "For Whom the Bell Tolls".  Guided tours shed light on the colorful figure of Papa Hemingway whose love of deep sea fishing, lazing about on porch swings, and heavy drinking became the template on which Key West was built.
Next we were off to
Blue Heaven
for a slice of key lime pie.  I wondered whether Hemingway ever indulged in one of these back in the day when he refereed boxing matches here.  A frothy mound of meringue sits atop a creamy wedge of lime filling on a graham cracker crust, a sugary medley of texture and flavors best enjoyed beneath the branches of century old oaks on the slate patio at Blue Heaven.  Blue Heaven offers mimosas and brunch for the morning crowd, live music, seafood and a full bar at night, and key lime pie at all times.
What Vacationing is All About
Key West emanates a Creole charm not unlike the French Quarter of New Orleans and is similarly chock-a-block with open-air bars and restaurants.  Tourists gather here from all over the country eager to emulate the amiable dissipation chronicled by Jimmy Buffet in his mega-hit Margaritaville.

But drinking in Key West also carries a nautical component and is not complete without a rousing sea adventure to brag about, so Lincoln and I booked an excursion aboard
Fury Catamaran
.  Their Rum and Reggae Tour carried us 45 minutes out into the Gulf aboard a 100 foot catamaran where we donned wets suits and snorkeling gear to explore a shallow coral reef.  Tropical fish darted before us and a massive sea turtle paid us a visit before we climbed back aboard and kicked back with a rum punch to watch the sun set to the strains of Bob Marley and the Wailers.
We were damp, so the trip back was a little chilly, but Lincoln was not complaining.  The same guy who just a day earlier had expressed reluctance to become wet in 65-degree weather was now standing on the bow of a vessel making  30 knots, the wind blowing through his hair as day turned to night, the temperature about 63-degrees.  He had forgotten his troubles for a brief time, which is what vacationing is all about.  No matter how long he had been a resident of Miami, his blood was not too thin for this.
Grizzled Fishermen and Sloppy Boozehounds
Back on Duval Street we bellied up to the bar at Sloppy Joes.  Hemingway put this place on the map, sitting elbow to elbow with his Cuban sidekick and an assortment of grizzled fishermen and boozehounds in the days before Castro took over just 50 miles south of here.
Key West's proximity to Cuba has impacted its culture in several ways, most recently during the Mariel boatlift in 1980 when federal authorities used heavy-handed methods searching for Cuban exiles in hiding.  So put off were the residents of Key West at being treated like criminals that they decided to secede from the U.S.

Although the establishment of Key West as a separate republic was mostly tongue-in-cheek, the residents still celebrate Key West Independence Day on April 23rd each year when the residents turn out for raucous street parties, fireworks and unique events like the "drag races" in which the town's flamboyant drag queens race down Duval Street in feather boas and stiletto heels to the cheers and laughter of the crowd.
We wound up our evening at Captain Tony's Saloon.   As it turns out, this was the actual place where Hemingway hung out before the bar owner took the name and moved it into more spacious digs down the street.  Now both places claim a Hemingway connection, which is important in a town where emulating the boozy habits of its celebrity residents is a key tourist pastime.
We ran into a couple from Nebraska who had been aboard the catamaran with us.  We shared a Red Stripe and swapped stories about our nautical adventures; and then, winding up a day of paddleboarding, snorkeling, eating, imbibing and exploring, we said goodbye to Key West and headed back toward Miami.
Key West is a unique place in the American landscape.  Part Creole, part American, part island, part mainland, its laidback atmosphere is best appreciated mid-week when the crowds are manageable and the overseas highway is not backed up with traffic.
Lincoln had to admit that this was something he didn't do more often simply because previous trips down had been on weekends when Key West's genuine character is eclipsed by the onslaught of tourists.  Having enjoyed a day's respite with a casual mid-week drive, he vowed to do it again.
He was no longer concerned about getting wet.
Check it out…
Stand Up Paddleboarding Key West
5001 5th Ave
Key West, FL 33040
Website

Garbo's Grill
603 Greene St.
Key West, FL 33040
Website

The Ernest Hemingway Home and Museum
907 Whitehead St.
Key West, FL 33040
Website
Blue Heaven
729 Thomas St.
Key West, FL 33040
Website

Fury Catamaran Rum and Reggae Tour
Westin Marina
Front St and Greene St
Key West, FL 33040
Website
My American Odyssey Route Map
Previous stop on the odyssey: St. Augustine, FL //
Next stop on the odyssey:  Mobile, AL




Image credits:
All images by Malcolm Logan