Clark Kent is resigning from the Daily Planet.  Times have changed and Kent doesn't appreciate the tabloid-like direction the paper is taking. He plans to become an independent journalist and blogger. Let me be the first to welcome him to the club.
As earth shaking developments in the Superman saga go, this one is fairly mild – especially considering that those developments have included a rocky marriage to Lois Lane and his own untimely death. But we have to take what we can get these days from DC Comics who have been striving to keep the Man of Steel up-to-date and relevant in an era when archrival Marvel Comics has been relentlessly bombarding movie screens with its stable of flashy heroes.
Superman, however, enjoys one advantage that his rivals can never take away from him.  He was the first.
How to lose 3 Million Dollars
Contrary to popular belief, Superman was not born on Krypton. He was born in the Jewish neighborhood of Cleveland in 1932 when a timid 18-year old comic book writer named Jerry Siegel struck up a partnership with his neighborhood pal and illustrator Jerry Shuster to come up with a science fiction comic entitled "The Reign of the Super-Man". The super being as first imagined was an interplanetary bad guy come to wreck havoc on earth.
While the boys were successful in getting the comic published, it didn't amount to much. So two years later, in 1934, they re-worked the character, making the super-man a good guy, a hero. They shopped the comic around, but no one showed much interest.
It took until June 1938, as Hitler was threatening war in Europe, before National Allied Publications (the forerunner of DC Comics) ponied up the rights to buy "the super-man" and contracted with Siegel and Shuster to create him. Superman debuted in Action Comics #1 in April of 1938. Today an original copy of that comic is worth more than $3 million. In 1938 Siegel and Shuster signed away their rights to the character for $130. They didn't know what they had.
Cleveland:  The Cradle and Keeper of Comics
These days the Glenville neighborhood of Cleveland where Siegel and Shuster created the Man of Steel is a seedy, run-down neighborhood. Yet Siegel's home, where the All-American hero was born, still stands, surrounded by a white picket fence sporting the iconic Superman "S".
Shuster's home didn't fare so well. It was torn down and replaced. Nevertheless, the Glenville Development Corporation and the Siegel and Shuster Society erected a fence around the property displaying king-sized versions of the original color panels from Action Comics #1 featuring Superman.
In spite of that small gesture, by most indications, Cleveland has still not fully grasped the rich tourism potential of its colorful comic book legacy. Interestingly, it has cashed in on its tenuous rock n' roll roots with the Rock & Roll Hall of Fame, but its claim to being the cradle of American comics is even stronger. For not only is Cleveland home to America's original superhero, it's also the place where comics were reinvented in late 1970's by a working class shlub and a skinny, introverted illustrator who went on to become the world's most recognized comic artist.
The Obsessive-Compulsive File Clerk
These days the neighborhood of Cleveland Heights looks very little like it did in the 1960's. Back then it was a meat and potatoes working class neighborhood of low rent apartment buildings and litter strewn parkways. Today it's a handsomely gentrified area of neatly mown lawns and stately old trees. But if you slip into the bookstore adjoining Tommy's Restaurant on Coventry Road and purchase a copy of American Splendor, you can see it as it once was.
Many of the locations portrayed in American Splendor still stand in Cleveland Heights, such as the apartment building where obsessive-compulsive file clerk Harvey Pekar resided amidst stacks of old jazz records and piles of dirty dishes. It was here where he met Robert Crumb in the mid-1960's and got the idea for a comic book that would depict the every day life of a regular person, himself. American Splendor went on to become a cultural sensation. Pekar made three appearances on Late Night with David Letterman, and in 2003 American Splendor was made into a critically acclaimed Hollywood movie starring Paul Giamatti.
Tommy's Restaurant, where Pekar and Crumb met to discuss their stories, has moved a half block away from its original location but still serves the sandwich creations named after its customers and the orange soda pop favored by Pekar. Crumb, for his part, moved from Cleveland to Haight-Ashbury in the late 1960's where he became famous for his huge-booted "Keep on Truckin" figure, as well as the bearded perverse imp, Mr. Natural, and the iconic album cover for Big Brother and the Holding Company's Cheap Thrills.
Together, Crumb and Pekar changed the face of comics, taking an art form that had been focused exclusively on children and remaking it for adults. Without their groundbreaking innovations, it's unlikely that Matt Groenig and his edgy creation, The Simpsons would have been made into a popular television series.
Harvey Pekar died in Cleveland Heights in 2010. Robert Crumb lives in the south of France.  To date, three separate documentary films have been made about his life.
Bigger Than Oprah, Elvis and John Adams
At the corner of East 105th St. and St. Clair Ave. in Cleveland, a modest plaque has been erected honoring Siegel and Shuster as the creators of Superman. It's a token gesture but not nearly what the achievement deserves.
According to a Gallup Poll conducted in the mid 90's, Superman is more popular than all other Super heroes combined. More Americans know that Superman came from Krypton than know that John Adams was the second president of the United States. As a brand, Superman is as recognizable as Apple or Walmart. As a trademark, he ranks right up there with Mickey Mouse and the Playboy bunny. And as a pop culture icon he keeps company with Elvis Presley, Oprah and the Beatles.
Arguably Superman is Cleveland's greatest gift to the world, so where is the homage? Jerry Siegel's former home, where Superman was created, is today owned by Jefferson and Hattie Gray who moved in back in 1983. Their realtor failed to mention the home's historical provenance. Three years later, in a belated effort to recognize its importance, it was declared a historical landmark, and since then the Grays have had to cope with the encroachments of fans, some arriving by the busloads, who stop to look at the house or come knocking at the door, thinking it's a museum.
Down the block and around the corner, the owners of the house that stands on Joe Shuster's former property have had to deal with similar enthusiasms. But in spite of the colorful fence that surrounds it, this is no place for tourists.
The neighborhood is blighted, dotted with vacant lots and abandoned houses. In 2011 the honorary plaque was stolen by thieves, and the commemorative fence was crashed into by a drunken driver. They have since been replaced, but this is hardly what the Man of Steel deserves.
A block away from the Shuster house stands the synagogue Siegel and Shuster once attended. It's boarded up and in disrepair. Fans are left dissatisfied and put off in their search for the origins of their hero.
Visiting the Real Metropolis



The Cleveland Institute of Art is a sleek modern building located on the lovely museum campus of Wade Park. In its former incarnation it was the place where Joe Shuster studied to become an illustrator. Around the corner, a few blocks away is University Circle Place, the former Commodore Hotel, where Shuster lived briefly during the years he was illustrating Superman. It's one of the few Superman sites still standing.
A few blocks further west on a stretch of Euclid Avenue is the place where Siegel and Shuster's studio once. There is nothing left of it now. The land is part of the campus of the Cleveland Clinic.  The City of Cleveland woke up too late to the significance of its comic book heritage.
However, that's not to say Cleveland isn't a worthwhile visit for those seeking to envision the original comic book universe. If you are looking for the model for Metropolis, you need only visit downtown Cleveland, especially the four block area around Euclid and East Ninth St.
Take a look up at the AT&T Building at 750 Huron Road and ask yourself if it isn't the model for the Daily Planet building. Stroll the stunning 1920's era lobby of the Huntington Bank Building at 905 Euclid Ave. and wonder where you've seen it before, perhaps during the scenes that were shot there for Spiderman 3.
Or walk the four block stretch of East Ninth Street between Prospect and Superior and take in the brawny urban metropolis it represents; the producers of The Avengers did, which is why they filmed the exterior scenes of their superheroes movie there.
Truth, Justice and the American Way
Cleveland is all about comic book heroes. From the slovenly working class Joe of American Splendor to the invincible Man of Steel, a rich comic book legacy has it roots in C-Town. But like Siegel and Shuster, who sold away their treasure for a pittance, Cleveland has been slow to recognize what it's got.
Plans are supposedly in the works for a Superman museum, but to date nothing has come to fruition. It was hoped that 2013's reboot of the Superman franchise would do the trick, but the film was too overblown and ended up being panned by critics. It seems, for the time being, Superman has been relegated to the supporting cast of other superhero movies.
You never know, though, the world is a very dangerous place and grows more precarious every day. We may yet find the need to fantasize again about a superhero who is faster than a speeding bullet and more powerful than a locomotive.
In the meantime, Clark Kent will have to content himself with writing his blog. Like the Daily Planet, which folded when the internet devoured the traditional newspaper industry, his services as a superhero are not presently needed. But when he returns—as he always does—it would be authentic, fair and appropriate to base him in Cleveland. Metropolis is fine, but Superman is all about truth, justice and the American way, and Cleveland is his real home. It would only be right.
Cleveland's Comic Book Legacy Tour Map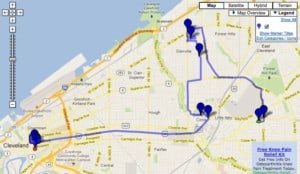 Click Map to See Larger Interactive Map
Previous stop on the odyssey: Niagara Falls, NY //
Next stop on the odyssey:  Martinsville, IN
Sources:
Tye, Larry. Superman: The High-Flying History of America's Most Enduring Hero. Random House: New York, 2012.
Sairo, Mahari. Living in Superman's House, Weekend America, American Public Media, 19 July 2008, 25 October 2012.
Sangiacomo, Michael. Superman Tribute Fence in Cleveland's Glenville Neighborhood damaged by car, Cleveland Plain Dealer, 25 May 2011, 25 October 2012.
Image Credits:
Superman at the Daily Planet, Public domain; The Reign of the Superman, Public domain; Action Comic fence, Malcolm Logan; Jerry Siegel's house, Malcolm Logan; American Splendor comics, American Splendor, Non-Free Media Data (see Fair Use claim below); Cheap Thrills, Non-Free Media Data (see Fair Use claim below); Home of Superman plaque, Malcolm Logan; George Reeves as Superman, Public domain; I was Murdered billboard, Malcolm Logan; Daily Planet lookalike, Malcolm Logan; Huntington Bank Building, Malcolm Logan; Superman socks Hitler,  Pop Culture Lunch Box; Fleischer's Superman, Public domain
Non-free media information and use rationale for American Splendor
Description:  Cover of American Splendor vol. 1, 1 (1976). Art by R. Crumb. Written and published by Harvey Pekar.
Source: publisher, Harvey Pekar
Article: Cleveland's Colorful Comic Book Legacy
Portion used: Full front cover as published.
Replaceable:  No free use image available. As these are fictional, copyrighted characters and a copyrighted publication, a freely-licensed alternative could not reasonably be obtained.
Purpose of use: For identification purposes in conjunction with discussion of the topic in the article.
This image is from a comic strip, webcomic or from the cover or interior of a comic book. The copyright for this image is most likely owned by either the publisher of the comic or the writer(s) and/or artist(s) which produced the comic in question. It is believed that
the use of low-resolution images of the cover of a comic book to illustrate:

the issue of the comic book in question;
the periodical comic book series of which this issue is a part; or
the copyrighted comic book character(s) or group(s) on the cover of the issue in question

where no free alternative exists or can be created,
qualifies as fair use under United States copyright law.  Any other uses of this image may be copyright infringement.
Non-free media information and use rationale for Cheap Thrills (Big Brother and the Holding Company album)
Description:  Album cover
Source: allmusic.com
Article: Cleveland's Colorful Comic Book Legacy
Portion used: Album cover only
Purpose of use: To display the album's cover as an example of the work of Robert Crumb

This image is of a cover of an audio recording, and the copyright for it is most likely owned by either the publisher of the work or the artist(s) which produced the recording or cover artwork in question. It is believed that the use of low-resolution images of such covers
solely to illustrate the audio recording in question,
on MyAmerican Odyssey.com
qualifies as fair use under United States copyright law. Any other uses of this image may be copyright infringement.