There comes a time in a man's life when he must prove himself on the field of battle. This was not exactly that time. However, it was a time to wear a furry cap with faux horns and make a snarling face like a barbarian and climb over a wall and slog through mud and leap through fire. It was a time for the Warrior Dash.
The Warrior Dash is a 5K mud run and obstacle course held in 37 states throughout the country each year. It attracts more than 800,000 participants and generates an estimated $1 million dollars in revenue for each of its host cities.
The Warrior Dash confronts its participants with ten daunting obstacles scattered over a 3.1 mile course. From cargo nets to narrow planks to single lane trenches, the impediments are designed to slow you down while challenging your balance, stamina and agility. Those who make it through experience a full body workout and an invigorating test of their faculties. In addition they get as muddy as swine.
The Starting Line
I was once an avid runner but suffered a recurring injury about ten years back that reduced my training to the point where I ceased running altogether and took up yoga and spinning instead. Then within the past year I found a solution to my problem and began building my miles again.
I started off running exclusively on the treadmill to lessen the impact that was at the root of my injury. I started wearing compression socks to stabilize my calf muscles, and I bought new shoes. I increased my miles gradually on the treadmill until I was running about 18 miles a week spread over 5 days, and then introduced one outdoor run a week to get my body acclimated to running on hard surfaces again. Once my weekly distance was up to 25 miles including at least 6 miles of outdoor running I was ready to try my first race in seven years, the Warrior Dash.
My brother Curt has quietly become a strong runner in recent years. Setting out on early morning jogs with his dog by his side in the open fields behind his home he has gotten into the routine of running 7 miles four times a week, steadily building his pace until he now glides along at a sub 8-minute mile without breaking a sweat. When I thought of running the Warrior Dash, I thought of him. Together we headed north to Grand Rapids, Michigan to don the horns.
The First Mile
Furry horns are just one item in the goody bag offered to participants of the Warrior Dash.  In addition you get a Warrior Dash T-shirt, a Warrior Dash pin, and upon completion a Warrior Dash medal which you can wear around your neck while drinking beer and dancing to one of the live bands that perform at the finish line.
Everyone one who participates is deemed a "warrior" by virtue of his or her participation.  However, everyone who participates is not dashing.
My brother and I were surprised by how many of the participants were actually walking. More than half of the "runners" who left the starting line with our wave at 12:30pm strolled out as if they were going on a site seeing expedition. A veteran of many runs of various distances over the years this was a new one on me and marks the passage of competitive running from serious competitive event to obligatory corporate team building exercise.
Loping along at an 8-minute pace (which among runners is not considered fast) my brother and I, who started at the back of the pack, passed most of the runners in our wave before the first mile was finished and caught up to and passed some of those from the previous wave before finishing the race.
There's nothing particularly satisfying in passing people who are moving at a speed one notch above standing still. In fact their presence on the course is something of a nuisance as they gambol along, two abreast, discussing the weather, as you are trying to wedge between them, panting for breath and streaming with sweat.
On the other hand, if you are going to have walkers mucking up a running event, the Warrior Dash is the best place to do it because you can view them philosophically as just one more obstacle designed to slow you down. One among many.
The Obstacles
You run more than a mile before you reach the first obstacle, something the race organizers call Storming Normandy. This is a sandy beach outfitted with ranks of giant X barricades with barbed wire slung between them.  You must run through the lake first and then throw yourself down on your belly on the beach and crawl under the barbed wire using your elbows.  You may get snagged at several points, as I did, but by shifting around you can pluck yoursel free.
My brother with his engineering mind figured out that by going down the center of the course where the wires crisscrossed there were half as many wires to pass under, so he finished the challenge quickly and was 50-yards ahead of me coming out of it.  From there he surged ahead and I never saw him again.
Another mile on and the Barricade Breakdown loomed up. This is a series of sloping wooden walls about ten feet in height. You clamber up one side and down the other using toeholds in the form of narrow wooden slats. About a quarter mile more and you run into the Two X Fall, a precarious walk along narrow wooden planks over muddy water. The planks slope up and down over the X-shaped framework while water sprays down on you from above, doing its best to distract you so you'll slip and fall.
If you make it through, you hustle ahead to the Giant Cliffhanger, a steeply pitched wall that you must scale using a rope. Unfortunately, as you're climbing up one side, another person is climbing down the other, and both of you are using the same rope. So the rope shifts back and forth through the cleat as you climb, making it difficult to keep your balance.
Another mile more and you are confronted with a series of long narrow trenches that tunnel beneath barbed wire. You must go down on your knees and crawl along. The trench is littered with small rocks and pebbles so your knees get scraped and bruised.  Just beyond the trenches is a tire obstacle that you have to pick your way through like a recruit at boot camp, and then you have to run for another stretch before taking on the remaining obstacles.
The Mud Pits
The last 200 yards provide the most visually entertaining obstacles and since they're near the finish line, plenty of spectators are gathered to cheer you on. First, you scale a 15-foot cargo net, then you leap through a bank of fire, and then at last you come face-to-face with 35 yards of mud pits garlanded with barbed wire.
The mud is of a special kind, black as coal and mealy as oatmeal. The barbed wire is hung within two feet of the surface so you are obliged to immerse yourself up to your neck to get under it.  Many runners just dive down and swim through it, getting mud caked in their ears and noses in the process.
The first mud pit is followed by a second filled with clay-colored mud. To pass between the two mud pits you must climb up a slippery mound of dirt and then slide down the other side. When you emerge it's a dozen yards more and you are across the finish line, gasping for breath, covered with mud, bleeding, bruised and happy.
The Finish Line
The Warrior Dash provides a wash down area with garden hoses for rinsing off. The mud is so thick and clingy you are in there for a surprisingly long time spraying yourself down. Mud runs out from under your shorts so persistently that you become alarmed at the thought of all the nooks and crannies where it's hiding. My brother had mud caked in his ears so thick he couldn't get it all out until he got home later and showered.
But for my brother at least it was a worthwhile effort.  He came in second in his age group, finishing the course in 36:12 with an 8:37 pace.  I came in 22nd among 139 participants in the 50-59 year-old age group in 42:25 with a 10:06 pace.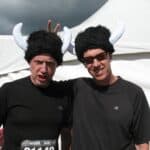 I must say, I was pleased. I had a great time conquering all those obstacles and crossing the finish line. I was proud to wear my horned cap and beat my chest like a barbarian. I enjoyed doing it with my brother.
For a guy who had assumed his days of running were behind him it felt like a new lease on life. Using this experience as a springboard I can build my miles, increase my speed, and enter new races. I can attack all the obstacles that confront me. I can triumph like a warrior!
Check it out…
Warrior Dash
Various locations throughout the United States, Australia & Europe
(312) 980-9983
Website
Previous stop on the odyssey: Chicago, IL //
Next stop on the odyssey:  Detroit, MI

Image credits:
All images by Malcolm Logan