She was not a good student. She had tried college and it hadn't really worked out. She had fallen in with a hard partying crowd, musicians and such. It was a weakness. So she quit school and moved to Los Angeles, thinking she could become a singer there. But that was a bust too. So she moved back to Port Arthur and in 1962 decided to give college one more chance. She moved to Austin.
His name was Ronald Clyde Crosby. In 1962 he was a drifter, wandering the country, playing a ukulele, busking for money on street corners. A friend in New Orleans persuaded him to try the guitar. He took to it. Three years later he turned up in Greenwich Village, participating in the burgeoning folk music scene there. He co-founded a band, adopted a stage name and got a recording contract. But the band didn't last. He went solo and wrote a song that became a hit for someone else. His own version only made it to number 77. In 1971 he moved to Austin.
Outlaws
Once Crosby got to Austin he met another songwriter, a 38-year-old ex-DJ with a similar background. The 38-year-old had written a song that had become a huge hit for the country music star Patsy Cline, but he had struggled to get his own version of the song recognized.
He had also written hits for Faron Young and Ray Price but had done so for a publishing company in Nashville that paid him a paltry $50 a week. To be a star in his own right the producers insisted he would have to smooth off the rough edges, to lose his gritty roadhouse sound, which was the heart of his music. When he refused, they called him an outlaw. So he left Nashville and moved to Austin.
In Austin he hooked up with other musicians, like the former folksinger and ukulele player, who had their own way of playing, a raw and gritty sound which refused to conform to the country music template. Together they donned the mantle of outlaws and performed songs that took in elements of the blues and rock and roll. Country music purists were aghast, but in Austin their music gained a following.
By then the girl was dead.  After a couple of semesters at the University of Texas she had decided once and for all that college was not for her. She could not stick to her studies, especially in a place like Austin where a young, aspiring musician with a barrel-house tenor and a brash, take-no-prisoners stage presence could find an audience.
She sang her way to a level of popularity that gave her the courage to follow her dreams, so she followed them all the way to Haight-Asbury where in 1967 she broke through with a band called Big Brother and the Holding Company. Three years later at the height of her popularity she died of a drug overdose in Hollywood.
The Drop Out
The same year Janis Joplin died a 17-year-old high school student who had been perfecting his licks in the nightclubs of Dallas dropped out of high school and moved to Austin.  Of Austin at the time he said, "Something's in the air here that makes you want to get on the stick and go. People are more open to let you play your music here." He played the way he wanted to. He slept on the floors of the nightclubs he went to. He played popular places like the Soapstone Saloon and The Continental Club on South Congress Avenue. He found a receptive audience.
Today, the Soapstone Saloon is long gone but the Continental Club is still there, wearing much of its original décor and hosting some of the best musicians in Austin. My brother and I went there to check out the current music scene and discovered that things haven't changed much since 1971 when that high school drop out found such a warm welcome.
Stubb's BBQ



We found a warm welcome too at the 4th Annual Spice for Life Chili Cook-off at Stubb's BBQ.  The cook-off is a competition pitting more than a dozen business and community organizations against each other for the title of Best Chili in Austin.  It's all to benefit the Young Texans Against Cancer, and the chili is amazing.  We sampled cherry and cinnamon flavored chili as well as chili made of mesquite, chicken, pork and buffalo.
Stubbs' has a huge outdoor beer garden and while we shoveled in the victuals Texas troubadour Shakey Graves took the stage to entertain us with his ragged brand of howling folk music. Graves strummed an electric guitar and thumped a makeshift kickdrum, all the while blurring the line between folk and alternative.
In recent years Austin has developed a reputation as a hotbed of pop and alternative music, spawning such bands as Spoon, Okkervil River and Fastball.  Austin's giant South-by-Southwest Music Festival, the biggest music festival in the country, cut its teeth as a venue for alternative bands seeking exposure, but when most people think of Austin, they don't think of alternative pop, they think of country and western, Western swing in particular, with its sassy skip and twirl, ideal for dancing.
The Continental Club
Redd Volkaert flavors his brand of Western swing with a rockabilly strum and a hillbilly twang while playing the matinee at The Continental Club in Austin. The matinee, which starts at 4pm is perhaps the best deal in town, charging no cover and happy hour prices while presenting top grade talent.
Redd did a stint as the lead guitarist for Merle Haggard and fronted the superstar hillbilly band The Twangbangers. With his 1953 Fender Telecaster he got the mostly over 40 crowd at The Continental laughing and cutting the rug with abandon.
Opened in 1957, The Continental retains some of the red velvet trappings of its early days as a supper club hosting the big bands of Glen Miller and Tommy Dorsey. In the sixties the club briefly became a burlesque club before returning to its musical roots in the seventies with an astonishing array of talent including Joe Ely, the Butthole Surfers, and Kinky Friedman. In the backroom of The Continental is a pool table on which that aforementioned high school dropout allegedly slept during lean times trying to get a gig. Eventually the young man formed a band called Triple Threat but after going through a line up change rechristened it Double Trouble.
All through the late seventies, the young man and his band played around Austin, serving up a searing brand of Texas blues characterized by his astonishing command of the fretboard, a guitar virtuosity that eventually caught the attention of Mick Jagger who invited the young man to demonstrate his chops on a larger stage where he came to the attention of David Bowie and Eric Clapton, and where he inked his first record deal. In 1982 Texas Flood was released to critical acclaim. Three years later Couldn't Stand the Weather was released to similar accolades. But by then Stevie Ray Vaughn was a household name, and no longer sleeping on pool tables.  
Esther's Follies
Austin is a liberal town. It's a big blue island in the heart of red Texas. And as a result it's open-minded and not afraid to laugh at itself.  Laughing at itself is most of what's done at Esther's Follies, a musical comedy revue on bustling 6th Street, the strip of bars and nightclubs in downtown Austin.
Here a troupe of irrepressible comedians sends up Austin while getting plenty of licks in at Washington DC. They do it with a combination of singing, dancing, skits and magic. The resident magician Ray Anderson wows the audience with jaw dropping tricks and clever comedy.  But the thing that really makes Esther's Follies different from any other comedy show you've ever seen is their use of a plate glass window at the back of the stage that looks out on the passersby on 6th Street.
The public finds itself unwittingly part of the show, leering in at the goings-on inside, while cast members periodically slip outside to turn the street into an extension of the stage. The whole thing's a hoot and well worth the price of a ticket.  If you're headed to Austin, take a break from the clubs to take in Esther's Follies.
My brother and I started our day around 2pm with Shakey Graves and the Chili Cook-off at Stubb's BBQ.  Then we headed over to the Continental Club on South Congress to take in Redd Volkaert. After laughing ourselves silly at Esther's Follies on 6th Street, we headed to our final stop of the night, one of the longest running nightspots in all of Austin, a real down home Texas style honky tonk.
The Broken Spoke
Opened in 1964 the Broken Spoke is without a doubt Texas's most definitive dance hall. Playing host to such seminal Western swing artists as Bob Wills and the Texas Playboys, Ernest Tubb and Kitty Wells, the Broken Spoke has a proud tradition.  But it is anything but hidebound.  Demonstrating that special brand of Austin inclusiveness, it offered a performance venue to a frustrated former drifter turned guitar player back in 1972, a fellow by the name of Ronald Clyde Crosby.
By then the song he had written had become a big hit for The Nitty Gritty Dirt Band, rising to number 9 on the billboard charts, and it was being picked up and recorded by a variety of performers from Elton John to Sammy Davis Jr.  The song was Mr. Bojangles and it gave its writer credibility if not acceptance as a performer in his own right.
It took another song to do that, a song with a Texas twang and one that, curiously enough, he didn't write, a song called Up Against the Wall Redneck Mother.  With that, Ronald Clyde Crosby, now known as Jerry Jeff Walker, finally broke through and today is so associated with his adoptive city that he is often referred to as the Jimmy Buffet of Austin.
James White is the man who brought Jerry Jeff Walker to the stage at the Broken Spoke and he is still the owner today. White took the mic and sang a song while we were there, much to the delight of the crowd. But the main act of the night was Two Tons of Steel, a rockabilly band from San Antonio not afraid to reinterpret such punk favorites as I Wanna Be Sedated as danceable Western swing.
As odd as it may seem in a town so associated with country music, Austin has a deep punk legacy. Bands such as The Skunks, MDC, the Dicks, and the Butthole Surfers sprang from there. 6th Street bars like Beerland and the Jackalope cater to the punk crowd. It's just another example of how wide and varied the Austin music scene is. Unlike Nashville or New Orleans it's not so much about a certain type of music as about an unprejudiced attitude toward all kinds of music. Austin welcomes all with open arms.
Honky Tonk Women
Austin's big heart certainly helped when a 38-year-old DJ from Nashville moved to town looking to play music his own way. James White gave him an opportunity at the Broken Spoke, for which he was eternally grateful, and to this day he shows up there from time to time, dining on the Spoke's famous chicken fried steak and sipping from a tall boy as he watches the dancer's spin round and round.
My brother and I watched the dancers too and found it fascinating.  A Texas dance hall is different from any other kind of nightclub. If you just sit back and observe you notice a few things.
First, everyone seems to be dancing.  There are very few wallflowers. What's more, when a man asks a woman to dance, she almost always says yes, whether the person is a complete stranger or not. It's considered rude to turn down a request to dance. Finally, the men respect the women by not using the opportunity to hit on them. They dance, thank one another, and part.  In the course of a night a woman will dance with a dozen different partners and never feel hunted. These are honky tonk women empowered.
What becomes clear after awhile is that, unlike most bars, where the main purpose is to drink, and then secondarily to listen to music, and then, perhaps, to dance, at a Texas honky tonk like the Spoke, the main purpose is to dance, and then secondarily to listen to the music, and then perhaps to drink, which changes the dynamic entirely and makes for a much more relaxed and accommodating atmosphere.
Heaping Helping



That 38-year-old DJ certainly found it so, which is why he built his home in Austin and lives there today with his twelve gold records and sales figures accounting for more than 40 million records sold. For in Austin he finally broke through in 1975 with a record called Red Headed Stranger, which featured the hit single Blue Eyes Crying in the Rain.  He followed that up with The Sound in Your Mind, which featured the song he had written that had become such a huge hit for Patsy Cline, a song called Crazy.  From then on Willie Nelson became a country and western star. With his relaxed demeanor and left leaning attitude, he remains one of Austin's favorite sons.
Austin is the creative and musical heart of Texas and on any given night you can enjoy a heaping helping of it at any one of more than a hundred live music venues around town.
With its friendly and openhearted vibe, it has become an incubator for music of all kinds and a springboard to success for a startling array of stars.  From Janis Joplin to Stevie Ray Vaughn, from Jerry Jeff Walker to Willie Nelson, and so many more, Austin is the place that let them be themselves and perform the music their way.  Austin is Texas with open arms.
Check it out…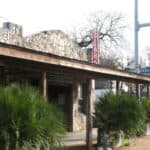 Stubb's BBQ
801 Red River St
Austin, TX 78701
(512) 480-8341
Live music, food, drinks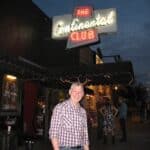 The Continental Club
1315 S Congress Ave
Austin, TX 78704
(512) 441-2444
Legendary club, live music, drinks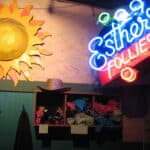 Esther's Follies
525 E 6th St
Austin, TX 78701
(512) 320-0553
Comedy, satire, music and magic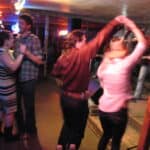 Broken Spoke
3201 S Lamar Blvd
Austin, TX 78704
(512) 442-6189
Iconic Texas honky tonk

A Walk Down 6th Street in Austin
2/22/14
Previous stop on the odyssey: Marianna, FL //
Next stop on the odyssey:  Marfa, TX

Image credits:
All images and video by Malcolm Logan, except Free hugs on 6th Street, Funky Tee; Janis Joplin, Public domain; Man with a horn, Dan Budiac; Young Willie Nelson, Public domain;  Teenaged Stevie Ray Vaughn, WE Greiner Exploratory Arts Academy