Digging Detroit: Ambitious Plans to Grow a City in Decline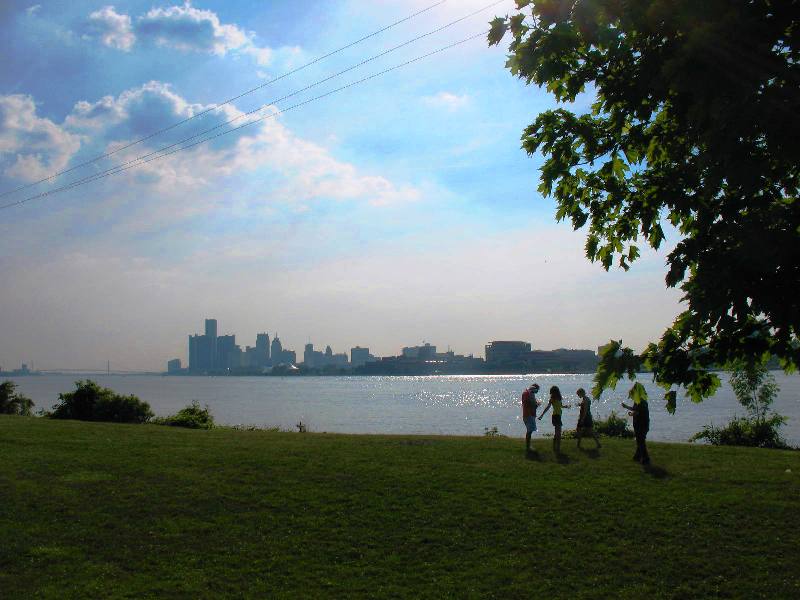 On Jefferson Avenue near downtown Detroit there's a restaurant called Dr. Dre's Open Pit and Bait Shop whose name pretty much says it all.  The City of Detroit is populated mostly by African Americans, 82% of the population is black.  Of those, nearly half are between the ages of 25 and 54, a demographic that would tend to exalt the hip-hop artistry of Dr. Dre, particularly as that music speaks to the disenfranchised of black society.  More than a third of black Detroiters are unemployed.
As for the rest of the name, Detroit actually is something of an open pit.  Take a look around and you are struck by the sheer number of abandoned and burned out structures.  In Detroit, every third home is derelict.  Fire department officials report an average of one new structure torched every night.  The cityscape is riddled with vacant lots where once dwellings stood and is chock-a-block with abandoned buildings, the windows broken out.  Decay and desolation are everywhere.  Since 2001 the population of Detroit has declined 25%.
This has acted like bait to a particular breed of entrepreneur.  More than a few visionaries have been lured into thinking they could revive the moribund city only to see their efforts fall flat.  All kinds of theories have been advanced as to why Detroit is in the state it's in and what can be done about it.  But it seems increasingly clear at this late hour that Detroit's resurrection will not occur because of gentrification in the traditional sense.
Unlike other cities, where good housing stock near public transportation is the foundation for the revitalization of a community, poor city management, rampant crime and an intransigent bureaucracy make that nearly impossible in the City of Detroit.  Instead, what will likely happen, and what an increasing number of observers seem to be planning for, is that Detroit will continue its downward slide until the current government becomes irrelevant.
When the City of Detroit stops being a city and becomes an enormous vacant lot riddled with empty buildings, the renaissance can at last begin.  The shape that renaissance will take may set a precedent for urban revitalization in the future.
The Organic Growth of a Good Idea
On a stretch of Meldrum Street one mile from downtown Detroit the Capuchin brothers of St. Joseph are quietly leading a revolution.  Back in the 1970's the friars began growing vegetables to provide food for the Capuchin Soup Kitchen, which has been providing meals and support programs to the community's indigent people since 1929.  Over the years, the gardens have expanded.  Today five separate lots act as a flourishing urban farm project known as Earthworks, producing a variety of vegetables for the soup kitchen as well as weekly supplemental food packages for over 200 families.
Friar Jerry Smith acknowledges Earthworks may be at the thin edge of the wedge of a growing urban agriculture movement in Detroit but he doesn't pretend that that was ever the intention.  As so often happens when monumental changes are afoot, the idea that catches on is not the one put forward by an executive committee but the one that grows organically from the needs and capabilities of the community.
In Detroit the need is there, but the capability may be lacking.  As Friar Jerry points out, the ultimate goal would be to teach indigent people to grow their own food and he remains confident in the prospect, although it's not easy.  On this perfect summer day I discover the friar digging alone in the garden.  Not one of the thousands of people who avail themselves of the soup kitchen is there to help him.
Fighting the Usual Red Tape in a Dying Detroit

Faith that jobless and indigent Detroiters will eventually take up some of the 60,000 vacant lots that dot the city and grow their own food is not confined to Friar Jerry and the Capuchins.  Three doors down from the two story bungalow that once housed Motown Records, the Detroit headquarters of the Urban Farming Campaign is trying to help people grow their own food.  Their stated goal is to help people transition out of circumstances of need by establishing gardens on unused land.  Detroit ought to offer ample opportunities for the campaign, and yet it currently has only three gardens in the city.  Far fewer than in other towns.
This may have something to do with the difficulties inherent in securing legal access to land from a city bureaucracy that is so obstinate and incompetent they have accomplished nothing in 30 years other than insuring the continued downfall of the city.
For the first time, however, that may be about to change.  Mayor Dave Bing, elected in 2009, has been outspoken in his support for urban agriculture and has pledged support in helping urban agricultural initiatives to cut through red tape.
That may be easier said than done, as millionaire entrepreneur John Hantz is finding out.  Hantz's ambitious plan to convert 110 acres of city-owned vacant lots into productive farmland has hit a few snags.  One of the main problems seems to lie in the fact that agricultural property is taxed at a lower rate than commercial property.  Add to that the fact that Hantz's enterprise is intended for profit and some people think they smell a rat.
In order to fend off what some see as a potential land grab, the city has been working up an agricultural zoning designation and trying to come up with an appropriate millage rate for agricultural properties.  As usual, the process is a slow one.  What Hantz had hoped to have off the ground and functioning by now is barely inching along.
Detroit as an Urban Agriculture Mecca
At last, in an apparent attempt to keep a low flame burning under the idea of a vast urban agricultural enterprise, Hantz sought and received approval from the city council to buy a modest 20 parcels of unused land around his company's headquarters.  Since the approval went through in March, Hantz has managed to scrape the parcels clean of debris for soil preparation and planting.  Already the effort is paying dividends.
I went to Hantz's modest start up farm and was surprised to the find the fringes of the lots piled high with tires, fenders and other discarded auto parts.  Finding this curious, I approached a neighbor digging in his garden and asked him about it.
"John is doing the neighborhood a great service," he told me.  "Already things are better.  Those used to be chop shops back there.  Car thieves used to bring stolen cars into those overgrown lots and strip them.  When John bought the lots and cleared them out, the car thieves had to go elsewhere."
That little story speaks volumes about where Detroit has been and where it's going.  While Hantz is facing the usual uphill battle against Detroit's bureaucracy and has been obliged to scale back his ambitions for now, he is not giving up.  Neither are the Capuchin Brothers of St. Joseph nor the committed agriculturalists at the Urban Farming Campaign.  Little by little, they are gaining a foothold in a long term effort to revitalize the City of Detroit through the introduction of urban agriculture, and their efforts are gaining attention outside the Motor City.
The growing urban agriculture movement sees Detroit as a test case.  Detroit has everything an ambitious agriculturist needs: good soil, access to fresh water, adequate rainfall and plenty of available land.  The potential for producing a poster child for successful urban agriculture is greater in Detroit than any other urban environment in North America.  Pioneers in the movement are drawn there.
Even if the teach-a-man-to-fish initiatives devoutly hoped for by the Capuchin brothers do not come to fruition, urban agriculture is likely to be adopted by a breed of newcomers arriving in Detroit to carry the effort forward.  In other words, for the first time in a long time people will actually be moving into Detroit rather than out. And at last, Detroit will be able to say it is experiencing growth.
____________________
Previous stop on the odyssey:  Pennsylvania Oil Sites   //
Next stop on the odyssey:  The Apostle Islands in Wisconsin
__________________
Sources:
US Census Bureau, Detroit (city) Quickfacts, 8 July 2009. 20 June 2011
Detroit's Unemployment Rate is Nearly 50%, Huffington Post, 16 December 09.  20 June 2011
Kellog, Alex P., Detroit to Shrink Itself, Wall Street Journal, 14 May 2010. 20 June 2011
Seelye, Katherine Q.. Detroit's Census Confirms a Desertion Like No Other, New York Times, 22 March 2011. 20 June 2011
Urban Farming – About Us, Urbanfarming.org, 20 June 2011
Hantz Farm to Develop Greenspace, WJMN TV3, 8 March 2011, 20 June 2011
A New Harvest for Detroit, The Atlantic, 27 May 2010, 20 June 2011
_______________________
Image Credits:
All images by Malcolm Logan
_______________________